Penn Station will get Hotel
A first on the East Coast, 77-room inn will occupy top three floors
By Ed Gunts | ed.gunts@baltsun.com
May 29, 2009

After years of planning and false starts, Amtrak has reached agreement with a developer to turn the upper three levels of Baltimore's historic Pennsylvania Station into a 77-room hotel, a first for an Amtrak-owned station along the northeast corridor.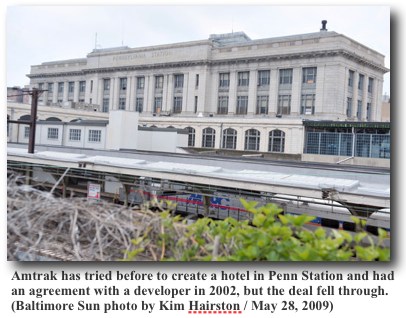 Amtrak officials confirmed this week that they have signed a lease with Hospitality Partners of Bethesda that will enable the company to build and run a "boutique" hotel inside the 1911 train station while it continues to operate as a railroad terminal.
Construction of the $9 million project, called The Inn at Penn Station, is expected to begin by year's end and be completed by late 2010. It would be one of the first major revitalization projects to move ahead in Baltimore's 100-acre Charles North renewal area since Mayor Sheila Dixon unveiled a $1 billion "vision plan" to guide development seven months ago.
"It's good for the city," said M. Jay Brodie, president of the Baltimore Development Corp., which has been working to revitalize the area. "I think there's a real audience for a hotel in that location ... I look forward to seeing it."

Several U. S. cities contain former train stations that now house hotels, including Nashville, Tenn., St. Louis, Mo., and Scranton, Pa. Baltimore's project would mark the first time a hotel has been created on the upper levels of a train station that continues to serve rail passengers in the northeast. Amtrak stations in Indianapolis and Cleveland also contain hotels.
The inn is one of several steps that Amtrak, also known as the National Railroad Passenger Corp., is taking to improve its properties in Baltimore.
Amtrak has leased space to Faber, Coe and Gregg of Secaucus, N.J., to run a Java Moon cafe and limited-menu branch of Dunkin' Donuts on the station's main concourse. Faber's operations will replace a coffee shop and cafe run by Eddie Dopkin's Crazy Man Restaurant Group, which left the building on May 22 after 17 years.
Faber, which also runs the station's newsstand, opened a temporary coffee shop this week and plans to open the permanent replacements this summer, according to senior vice president Roberta Rubin.
Amtrak is also preparing to hire architects and planners to complete a "highest and best use analysis" of the 185-space parking lot it owns north of the station, property that is considered a key to the area's revitalization.
Fifteen teams, including some of the country's top urban designers, sought the work after Amtrak issued a request for proposals in April. Amtrak has narrowed the list of candidates to three and is in the final stages of selecting a design team. All work by the winning team is scheduled to be completed by mid-September.
Revitalization of the train station at 1515 N. Charles Street and the 1.5-acre parking lot, known as the Lanvale site, were identified as top priorities in the vision plan that Dixon unveiled on Oct. 30, 2008.
The renewal area is centered on the intersection of Charles Street and North Avenue and includes the state-designated Station North arts and entertainment district. The vision plan calls for transforming the district into a $1 billion "cultural crossroads" over the next three decades. Components include 1,900 residences, 557,000 square feet of shopping space, 300,000 square feet of office space and 4,700 parking spaces in the area roughly bounded by St. Paul Street on the east, 20th and 21st streets on the north, Howard Street and Falls Road on the west and the Jones Falls Valley on the south.
According to Amtrak, Baltimore's Penn Station is the eighth busiest in its system, with about 90 trains passing by every day and more than 1 million passengers a year.
The city's vision plan called for it to be expanded to include a hotel and shopping arcade on Amtrak's property north of the train tracks, with a link across the tracks to the station itself. Suggested elements include an underground garage for several hundred cars, a hotel and conference center, shops, a park and band shell for outdoor concerts. The entire project could cost $100 million or more.
Brodie said Amtrak's study is a logical follow-up to the city's planning effort. "It's their property," he said. "They're certainly entitled to explore it on their own. That lot is one of the most critical lots in the area."
The lease with Hospitality Partners, meanwhile, marks an end to years of effort by Amtrak to find a way to reuse the train station's vacant upper floors, which previously housed offices for Amtrak police, customer service and maintenance workers. In 2002, Amtrak was working on a hotel plan with a Columbia-based group, James M. Jost & Co., but the project never materialized.
Under a plan endorsed by the Maryland Historical Trust, the hotel rooms will line the station's perimeter and will be reached from corridors overlooking the main concourse below.
Jim Glennon, president of the development division for Hospitality Partners, said the company intends to comply with federal standards for historic preservation. While rooms rates have not been set, he said, the inn's prices will be "mid-scale."
Founded in 1986, Hospitality Partners is headed by Michael M. Dickens, John A. Vernon and Frederick J. Palloni, Jr. Its portfolio includes nearly a dozen hotels, in Maryland, Virginia, Washington, D.C., and California. It also will manage the Fairfield Inn & Suites by Marriott that is opening this summer on President Street in East Baltimore.
Brodie said he thinks The Inn at Penn Station will be especially beneficial to the nearby University of Baltimore, which is building a $107 million law center one block south.
"I'm pleased that they're moving forward," he said.
back to the Amtrak page
---
Pennsylvania Federation BMWED-IBT