Claiming BMWED Contract Violations on the Amtrak Property
What is a Grievance (or time claim)?
According to the Railway Labor Act, Sec. 152, Sixth - "In case of a dispute between a carrier or carriers and it's or their employees, arising out of grievances or out of the interpretation or application of agreements concerning rates of pay, rules, or working conditions..."
What's on this page?
---
BMWED/Amtrak NEC Agreement
Rule 64 - CLAIMS FOR COMPENSATION TIME LIMITS FOR FILING

(a) All claims and grievances alleged to be due made by or in behalf of employees must be presented, in writing, within sixty (60) days from the date of the occurrence on which the claim is based in accordance with the following provision of this Rule, except:
(1) Time off duty on account of sickness, leave of absence, suspension or reduction in force, will extend the time limit as specified in this Rule 64.
(2) When a claim for compensation alleged to be due is based on an occurrence during a period employee was out of service due to sickness, leave of absence, suspension or reduction in force, it must be made, in writing, within sixty (60) days from the date the employee resumes duty.
(b) All claims or grievances must be presented in writing by or on behalf of the employee involved, to the designated officer of AMTRAK authorized to receive same, within sixty (60) days from the date of the occurrence on which the claim is based.
Should any such claim or grievance be disallowed, AMTRAK shall, within sixty (60) days from the date same is filed, notify whoever filed the claim or grievance (the employee or his representative), in writing, of the reasons for such disallowance. If not so notified, the claim or grievance shall be allowed as presented, but this shall not be considered as a precedent or waiver of the contentions of AMTRAK as to other similar claims or grievances.
(c) If a disallowed claim or grievance is to be appealed, such appeal must be in writing and must be taken within sixty (60) days from receipt of notice of disallowance. Failing to comply with the provision, the matter shall be considered closed, but this shall not be considered as a precedent or waiver of the contentions of the employees as to other similar claims or grievances. It is understood, however, that the parties may, by agreement, at any state of the handling of a claim or grievance on the property, extend the (60) day period for either a decision or appeal, up to and including the highest officer of AMTRAK designated for that purpose.
(d) The requirements outlined in paragraphs (b) and (c), pertaining to appeal by the employee and decision by Amtrak, shall govern in appeals taken to each succeeding officer, except that in cases appealed to the highest officer designated by AMTRAK to handle claims or grievances on appeal the sixty (60) day time limit for decision shall run from the date the appeal is heard.

All claims or grievances involved in a decision by the highest designated officer shall be barred unless within one hundred eighty five (185) days from the date of said officer's decision, proceedings are instituted by the employee or his duly authorized representative before the appropriate division of the National Railroad Adjustment Board or a system, group or regional board of adjustment that has been agreed to by the parties hereto as understood, however, that the parties may by agreement in any particular case extend the one hundred eighty five (185) days period herein referred to.

(e) A claim may be filed at any time for an alleged continuing violation of any agreement and all rights of the claimant or claimants involved thereby shall, under this Rule, be fully protected by the filing of one claim or grievance based thereon as long as such alleged violation, if found to be such, continues. However no monetary claim shall be allowed retroactively for more than sixty (60) days prior to the filing thereof. With respect to claims and grievances involving an employee held out of service in discipline cases, the original notice of request for reinstatement with pay for time lost shall be sufficient.
(f) This Rule recognizes the right of representatives of the Organizations, parties hereto, to file and prosecute claims and grievances for and on behalf of the employees they represent.
(g) This Agreement is not intended to deny the right of the employees to use any other lawful action for the settlement of claims or grievances provided such action is instituted within nine (9) months of the date of the decision of the highest designated officer of AMTRAK.
(h) This Rule shall not apply to requests of leniency.
(i) When claims are allowed, the employee and his duly accredited representative, as defined in Rule 83, shall be advised, in writing the amount involved and the payroll on which payment will be made.
(j) The officers of AMTRAK referred to in this Rule 64 are as designated in writing by the Carrier.
Download and Print a copy of Rule 64
---
Amtrak's Designated Officers for NEC claims , grievances, and appeals
Amtrak's Labor Relations Department will periodically, formally and officially notify the BMWED as to where to send our claims and grievances. Amtrak has contracted with the BMWED to appoint and designate the officer with whom the claim must be filed in the first instance (1st level). This agreement includes the requirement that if the officer disallows the claim, he must do so in writing and give his reasons therefor. Thus, his decision has been contracted for and may not be brushed aside by higher level officers. Rule 64(b) clearly states:
(b) "All claims or grievances must be presented in writing by or on behalf of the employee involved, to the designated officer of AMTRAK authorized to receive same, within sixty (60) days from the date of the occurrence on which the claim is based."
This simple paragraph contains three key elements concerning claim submission.
"All claims or grievances must be presented in writing by or on behalf of the employee involved...." From this language we understand that all claims must be written, not verbal, and that an individual employee can submit his/her own claim, or a claim may be submitted on behalf of an employee by a BMWED grievance officer who is authorized to do so. So I can submit my own claim, as long as it's written, but I can't submit a claim for John unless I'm authorized by the union as a grievance person. For a list of who's authorized to submit claims, please contact your local committee or District Representative.

"... to the designated officer of AMTRAK authorized to receive same..." meaning only those managers who Amtrak selects can receive our claims and grievances. A claim sent, for example, to your supervisor or Assit. Division Engineer will fail the proceedural requirements of claim handling and the claim will be denied.

"... within sixty (60) days from the date of the occurrence on which the claim is based." We have 60 days to submit a claim to Amtrak's designated officer, meaning the claim must be in the hands of whoever is designated to receive it within 60 days of the violation. Let's say that on Saturday May 1, 2017, Amtrak assigned a junior employee to work overtime instead of you. You are the senior employee, are qualified to perform the work and were available had you been called. Your written claim must be delivered to the correct designated Amtrak officer before June 29, 2017, or within 60-days of May 1, 2017.
This is the most important piece of the complicated process of claims and grievance handling. Your claim must go to the correct Amtrak officer, within 60 days of the violation, and be in writing. Emails and faxes don't count. Claims should be delivered either personally, or by US Certified Mail with a return receipt requested (green card). If you hand deliver your claim, make sure to have it date stamped as received, and retain a copy for your records.
Here is the current list of Amtrak's 1st level Designated Officers, including their names and the addresses of where to send your claims, grievances, and appeals.
Still not sure where to send your claim? Use the "Contact Us" link on the left in the Main Menu bar.
---
What is a Grievance?
A grievance is a complaint or dissatisfaction arising from the interpretation or application of a contract. It is not necessarily a mere personal difference or problem affecting an individual worker. Two questions determine whether a dissatisfaction is a grievance:
Has the contract been violated?
Has the Company acted unfairly?
Grievances involve such things as discharge and discipline of employees, seniority rights, discrimination on personnel, racial or religious grounds, safety or sanitation of work places, defective tools or machinery, treatment of workers by supervision and wage rates.
The term "grievance thus includes a great variety of controversial differences between employees and employers. Many grievances merely represent differences of opinion on interpretation and do not imply any serious argument. However, the accumulation of these minor disputes has often led to major conflicts between employees and employers. Hence, there is a need for understanding individual disputes as they arise and settling them in a just and speedy manner.
The grievance procedure provides the individual worker with the means of enforcing the terms of the contract and with a democratic method of appeal against any one person's decision affecting the worker's wages and working conditions. It thus protects the rights of the individual worker in industry. The grievance procedure is linked to the local lodge system, the election of local grievance people is at the subordinate lodge level.
The most important job performed by local grievance people is handling grievances. They are the representatives of the workers of their subordinate lodges in their dealings with the Company. Secondly, they give leadership to the rank and file union members in their department because they are the officers closest to them.
Many grievances can be settled at the subordinate lodge level, thus the better equipped and trained local grievance people are, the more cases they will be able to settle. Local grievance people should receive assistance in order to do their work properly. They should be supplied with a copy of the current Agreement, National Division and System Bylaws, and policies provided for by the Contract. It is essential that they become thoroughly acquainted with the Contract, Constitution and By-Laws and grievance procedures.
In view of the personalities involved, and the lack of precedence for solving some problems, local grievance people must be skilled diplomats. They must also be impartial judges in order to get the facts separated from the feelings and opinions.
The grievance shall be presented, in writing, by the employee and/or the local grievance person or the duly accredited representative, to the employees Division Engineer or designated Carrier representative, with a copy for the District Chairman, the local grievance person, and a copy retained by the employee. Grievances will be proceedurally denied for delivery to incorrect Company Designated representative. Know what the grievance entails and who to send it to.
Local grievance people hold key positions since they are the first people to deal with a grievance. They must have sound judgment for they are likely to get complaints on every aspect of working conditions from "I can't work with red heads", to real problems such as speedup on the job. They will have to sift justifiable complaints form unjustifiable ones, and will have to tactfully discourage habitual "bitchers". If the worker is in the wrong, local grievance people should help the worker come to that realization rather than have a Company Officer do it.
"Know the Contract" is the first commandant for local grievance people. In order to know whether or not the Company and the Union are living up to their Agreement, local grievance people must know what it provides. If they do not know, they cannot tell the worker who brings in a complaint whether they are right or wrong. Local grievance people should keep up to date on arbitration decisions and new interpretations of the Contract clause.
The duties of local grievance people are, briefly, to see that the provisions of the Contract are enforced, to take up individual grievances with Management, to promote general Union policies, to encourage members to join the Union, and stress the need to attend local lodge meetings. To do a thorough job, local grievance people should have a complete knowledge of the department they represent.
The following general rules should be kept in mind by local grievance people:
Check all the facts. Don't be afraid to tell a worker if a claim is unjustified. Plan on how you will present the case to the Carrier Official before you meet with him.
Keep cool. A lost temper is a lost argument.
Show respect for the Official and make it clear that you expect similar respect. If he tries to talk you down, be firm without using abusive language.
Stick to the point. Don't let the issue be sidetracked. For example: If you are trying to get safety goggles for Welders, don't let the discussion swing to whether workers in the Track department wear safety gloves.
Try to put the burden of proving the case on the Official. If you are sure he is wrong, the weak link in his argument will be seen. Be a good listener, and when it is your turn, demand that your case be heard through.
Maintain the Union's position unless it's proven wrong. Remember you are the workers Representative.
Insist on prompt action in the handling of grievances. If you believe that the grievance cannot be settled by the Officer, proceed to the next stage of adjustment. If, because of company policy, the Officer is not authorized to handle some grievances, don't let him stall in such a case.
As many grievances as possible should be handled at the first level. This aids in rapid settlement and helps to maintain good relations.
Keep track of a grievance which has been handed over to a District Chairman. In an appeal case, follow developments closely. It is important that workers be informed that you are not neglecting their grievance even though the direct responsibility has been given to the District Chairman, Vice Chairman or General Chairman.
Be a good loser. If you have lost a grievance with the Company Official, remember that your agreement allows for a higher appeal.
Be a good winner. Don't crow over the Company Official when you have won a case.
Maintain a united front when accompanied by other workers or Committee people. If there appears to be some disagreement among your Committee, request a recess and settle it outside. Don't show discord to the company's Official.
Settle every case on it's own merits. A record of similar cases settled in your department will be helpful in preparing your case. This is important to maintain the respect of both workers and Management for adjustment of grievances by a worker's representative.
Local grievance people should not sit waiting for grievances to come to them. They should be on the alert to notice infractions of the Contract, voluntary or involuntary. If the Agreement specifies that adequate drinking facilities must be provided, a single cup beside a cold water tap does not meet this provision. If the work requires provision of safety gloves for all workers in their department, they will not hesitate to ensure that the new worker, who started only a few weeks ago, has the necessary equipment.
Local grievance people should remember that the Collective Agreement places definite responsibility with the Union. The Company has a right to expect that workers will:
1) Observe Company rules.
2) Do a fair day's work
3) Be punctual, and not be absent without just cause.
Local grievance people should provide leadership in seeing the Company's rights are respected. They should see that the workers keep their part of the bargain.
To sum up: The purpose of a grievance procedure in a contract is to provide a method of dealing promptly with the grievances of the workers. Grievances are affected by human relations and human characteristics. Fairness, ability to cooperate, and prejudice, are examples of the human element that will have a bearing on settlement.
It has been stated, quite accurately, that prejudice is a man's number one problem in getting along with others. Prejudice closes minds to facts which should enable people to work together in friendship and avoid unnecessary disputes.
It may take nothing more than an unfair or overbearing boss, or a fellow worker with a bad working habits, to stir up fear or jealousy. These are emotions and disordered emotions should not replace the facts that are needed to back up a just grievance. They can only serve to confuse the issue. No one should enter a grievance with the thought of revenge or out of a "chip on the shoulder" spirit. Such complaints are generally not in the interest of the workers, and only tend to disrupt the grievance machinery. Also, demands should be reasonable. To demand more than is necessary to settle the grievance, is unwarranted.
Friendly cooperation between Union and Management helps greatly in settling grievances and often prevents them. Laws and Union-Management Agreements exist governing the handling of grievances, but unless both parties are eager to cooperate fairly, there will not be industrial peace. In producing an atmosphere of cooperation, the part of local Grievance People is vital. It is important that in carrying out this job, they act with speed as well as intelligence, and that both these qualities be matched by good will.
---
The DO's and DON'Ts of Grievance Handling
DO's

DON'Ts

Observe and enforce time limits

Don't w

aive time limit, except for good reason, then only in writing

Get facts and evidence into the record and consider any claim as a potential Board case

Don't g

eneralize or rely on oral information, expecting quick settlement

Name claimant when possible

Don't s

ay "a check of timecards will show", or "I'll name them in conference"

Obtain written statements

Don't i

gnore it or tell Carrier Official to check it's files

Shift burden of proving a positive defense to employer

Don't j

ust say it has been this way

Don't j

ust argue "yes we have" when the employer says "no you haven't"

Rebut employer's argument

Don't c

hange your position or amend a claim

Confer at top level, and have conference confirmed in writing

Don't i

gnore something asserted as a defense, or discrepancy in alleged facts

Don't f

ail to hold or confirm a conference, or say it will be futile

Refer to disputed work as regular work or overtime work

Don't w

ait until let time limits expire

Include facts supporting your argument

Don't wait until next level to add facts

In dismissal, ask for immediate restoration to service with lost pay and all rights and benefits

Don't r

efer to a situation as an emergency.

Cite relevant rules(s) quoting word for word portions that specifically apply to the claim

Don't use words like "gross misconduct" or "accident prone"

Show that the employer violated a rule or enforceable practice

Don't a

sk for reinstatement 'at some early date"

Raise the procedural issue immediately

Don't j

ust say "you should not have done that"

Submit to the correct Carrier officer

Don't rely on the General Chairman or Grand Lodge to do it

Name the Rule(s) involved

Don't just say "Agreement was violated"

Use the phrase "loss of work opportunity"

Don't use the word "penalty"

Explain the specific work

Don't j

ust say "It's our work"
---
The formal claim or grievance probably is the most common form of written Union communication.

Understandably, many Union reps hate to write letters; words are sometimes hard to come by and then there is the thought of putting something down on paper for all the world to see. But grievance writing is not something to be afraid of or to avoid like the plague; and, like it or not, grievance writing is a big part of your job as a union rep. It is a skill which can be acquired through study and practice. If you can argue your point verbally---and none of you would be Union reps if you couldn't---then you can learn to write effective formal grievances.

The major focus of grievance preparation and writing is to produce a grievance which will present the BMWED's position in the best way so as to convince any reader that you are right. Essential to the process is an understanding of the basic elements of a grievance, i.e., what you absolutely must include. You cannot even begin to write a grievance without knowing what it has to contain and in what order.

Let's start at the very beginning of the grievance writing process. That's what goes on in your head before you put pen to paper or hit the keyboard. First, gather all the facts. With the passage of time, witnesses retire, move to other locations or otherwise become unavailable. Likewise, evidence disappears and documents get destroyed, so it is critical that you do a thorough job of fact gathering at the outset. After you have gathered all the facts, you must define the issue, determine what rules of your agreement apply, who the claimant is and what he or she is entitled to should the claim be paid.
But how will you know what information is required? A good way for you to clarify what information you need to include in a grievance is for you to adhere to the grievance format which is standard in railroad arbitration. Most importantly, you should learn to arrange your thoughts in terms of this standard format because this format is required by the National Railroad Adjustment Board. Each and every grievance is composed of:
*Note that we only show three elements. That is because there are only three main parts to a grievance and every last thing you write in support of the claim has to fit into one of those three categories.
Of course, you also need to remember to include the date, the file number, your signature and to direct copies of the grievance to the appropriate parties. Copies can be particularly important if a copy of the grievance is used to notify a carrier officer that his or her decision is being rejected, as required in many grievance rules. This standard claim format is logical and will help you, as a union representative, to better understand what information and argument is required for you to produce sustaining claims. Adherence to the format also makes it easier to convert thoughts into words. You must also remember that each of the three elements is linked to the others, and no claim is likely to be sustained if any element is defective or is just plain wrong.

There are other reasons why the use of this standard claim format makes good sense. First, if your claim is to be taken to arbitration it absolutely must be in this format. This means that your General Chairman or whoever writes submissions for your Board must make all the information in your claim fit into the three categories. This can be very difficult to do if a claim is written free style---that is, in letter form, without regard to format. It is also very time-consuming and tedious, and there is always the chance that a very valid or important point that you made will get left out of the submission. Picture someone having to transfer several pages of free style text sentence by sentence into this format.

Another reason for using the same format in all your grievances is the growing use of personal computers. If any of you use word processing programs, you know that it is a simple process to copy or cut and paste text from one document to another. It is also very easy to edit documents. If you have your own computer, you may also find it convenient and a great time-saver to store files containing the text of various rules or even "canned" arguments in a central directory so you can call up and insert text into your grievances in the appropriate place. So it just makes good sense to put the claims in the same format every time. And if you have a number of repetitive claims, using the standard format will save you a lot of precious effort; just call up the basic format and change the specifics. You can't do that as easily with a free style letter.

Statement of Claim

The first element of the formal grievance is the Statement of Claim. This portion of your claim is critical because it is the foundation of your claim and it is time-sensitive. Here you must set out:
When and where the Carrier did something wrong which violated the Agreement and affected the member

What the Carrier did

The Claimant's name and the remedy requested
The Statement of Claim must be an affirmative assertion that the carrier violated the Agreement on a certain date when its actions adversely affected the named claimant, and that as a result the claimant must be awarded a specific remedy.

The remedy may be money or it may be a particular act, such as requiring the carrier to award a position to the claimant. It should also be in line with contractual entitlement. In other words, it serves little purpose to claim a $100,000 penalty for a one-shift overtime runaround claim. Don't short the Claimant, but keep the claim in line with what we call the "make whole" philosophy. In plain terms, ask that the Claimant be compensated for what he would have earned had the Agreement not been violated. You may demand in a scope/classification of work claim that some disputed work be returned to the Claimant, but you should know that many arbitrators are hesitant to do this, believing that they have no power to tell a carrier how to run its business. Instead, most arbitrators prefer to rule that the carrier must pay a price for each day or tour that it violates the Agreement, thus stopping short of ordering the carrier to reestablish a position, etc.

The Statement of Claim has to be 100% correct. If not, and if it is not corrected within the time limits provided for in the Agreement, the General Chairman cannot correct the error and salvage the claim. For example, if you make a material error in the Statement of Claim---let's say you claim the violation happened on April 1st---and later you discovered it actually happened on April 3rd,---and your Agreement contains a 60-day time limit provision, if you attempt to correct the improperly filed claim you are in effect filing a new claim and can only do so within the sixty (60) days specified by Rule 64 of the Agreement.

You also may discover after having filed a claim that the magnitude is much greater than you thought, involving more claimants or occurring on more dates than you originally specified. This is one of the main reasons why you have to promptly and thoroughly research your claims so you do not file for the wrong date or the wrong claimant. Therefore, the utmost care and attention must be devoted to preparing your Statement of Claim because it may not be altered or expanded once the time limit for filing claims has passed.

Generally speaking, the identity of the claimant should be readily discernible from the carrier's records. That does not mean that you always have to specifically state the individual names of the claimants. The term "senior welder" or "senior available employe" has been used in railroad arbitration proceedings for decades and is especially appropriate in cases where the relief requested extends over a lengthy period of time and involves different employes on different dates.

If you do name a claimant, make sure you have the right one. You cannot amend a specific claimant's name after the time limits have expired for filing the initial claim.
BMWED-IBT claims sometimes name several specific Claimants, such as a list of furloughed employees or the craft employees who would have been assigned the work in the absence of contractors. It is perfectly OK to name several Claimants and to state the amount or portion of the relief to which each is entitled, if you are able to do so.

Statement of Facts

The Statement of Facts is the second of the three component parts of a grievance. The Statement of Facts is simply the story of what happened. And like any story, it helps to begin by introducing the cast of characters.

First, start with the claimant, identified by seniority date, assigned position, working hours and rest days, etc. If other employes are involved, their seniority dates and assignments (if pertinent to the dispute) should be stated. Then give a chronological statement of what happened. Be brief and factual. This is not the place for allegations or arguments; just the facts. Unlike the Statement of Claim, the Statement of Facts can be expanded during the handling on the property.

Note that we specify during the handling on the property. It is important for you to remember that when the General Chairman dockets a claim for arbitration at the Adjustment Board or a Public Law Board, that action closes the record. You can make amazing discoveries about the case and develop fantastic new facts and evidence, but once the record is closed, such information is barred from the case---even from the arbitration proceeding. Again, once the claim has been docketed for arbitration, the opportunity to present facts is gone. But so long as the parties continue to attempt to resolve the claim on the property, either side may present additional facts supporting their position.

When you write the Statement of Facts, keep in mind that Board members and the neutral referee will have never heard of the case, and that the clarity with which they first learn of the case will materially contribute to their impressions as to the appropriateness of the claim. Nothing is more irritating to a referee than to read a statement of facts and not have any idea of what the claim is about. He or she will then probably look through the correspondence on the property and settle on the Carrier's version, which is usually well set out in its final denial letter on the property. This, we do not want to happen, so you must learn through practice and experience what to include.

The Statement of Facts is also a good place to introduce evidence which sets up the case. But you must know enough about the grievance to have an idea as to what facts the arbitrator will need. In a scope rule case, for example, you might identify the Claimant and state that he is "assigned to position so-and-so and a copy of the bulletin establishing his position is attached as Exhibit "A." Another example might be the introduction of a carrier instructional bulletin with which you take issue. You might also introduce in a non argumentative manner your version of a conference you might have had with Carrier prior to filing the claim. The key is to limit this element of the grievance to stating the facts as you understand them. Do not call names, and do not be argumentative or sarcastic.

A good grievance writer knows how to present the facts in a manner so as to draw the conclusion that the agreement has been violated before the position of the employes has even been read. While it takes a some practice, it is possible to present even inarguable facts in a manner which complements the BMWED's position. The argument comes next.
The final component of a grievance is the Position of Employes. This is your opportunity to present argument to support your claim. As with the Statement of Facts, this component of the claim can be refined during the handling on the property. Here you should cite the relevant rules, quoting word for word those portions which specifically apply to the claim.

If you have them, you may also want to try your hand at quoting from arbitration awards which interpret the Rules in support of your position. Arbitral support, when available, will be added by the System or Joint Protective Board in subsequent handling, but if you have an award on point or if similar claims have been paid in the past, the inclusion of this information adds professionalism to your claims. and forces the carrier to address the awards you cite. Your arguments and any citations designed to prove the intent, purpose and effect of the Rules on which you rely must be sufficient in detail so as to be convincing. Remember, it is not sufficient to merely quote from awards which you think sound good; no, you have to establish that the awards decided cases which were similar or identical in facts and rules to the claim you are writing. And read the whole award before you cite any language. Some award language may look great on page 2, but on the final page the Board denies all facets of the claim. Also, make sure you are citing from the Opinion of the Board, not a partisan position.

The Position of Employes must link directly to the facts which you established in the Statement of Facts. There is no point in arguing long and hard or quoting from various awards on an issue which you didn't even mention in your Statement of Facts. What you must do is link by argument, evidence or award citation the rules which have been violated with the circumstances which you set out in the Statement of Facts.

There you have it: the three key elements of a grievance. And remember, we are not talking about invisible separations of thought and expression: you must actually write on the paper and underline Statement of Claim, Statement of Facts, and Position of Employes, just as we show in the following sample claim and grievance.

If you can present your case to a local carrier officer in a written grievance which is positive, professional and convincing, he or she might just decide to settle the claim, particularly where the grievance is so well set out and so clearly in violation of the agreement as to prove embarrassing if appealed to the next higher level. Even if the grievance is not settled locally, a well-written initial claim is essential to those who might progress the claim.
---
Seperating Opinion from Fact

Facts are Facts !
A fact can be verified.

A statement which cannot be verified is NOT a fact. Only exceptions to this rule lie in past events.

Facts should exclude personal opinion and inference as much as possible.

A fact is a statement of a thing done, having happened, or existing.

A fact is a report of reality or actuality.
Opinions are Opinions !
Opinions cannot be verified like facts.




They are personal in nature.




Opinions can be based on facts, or partly on facts.




An opinion is the belief or view you have of a person or situation and is generally based on inference or judgment.




There is no positive way of determining which of two opinions is best. If the opinions relate to forecasting a future event then the test of which is the best opinion will only be known when the event occurs.




An opinion does not become a fact because you agree with it.




An opinion does not become a fact because a lot of people agree with it, it is not necessarily a good opinion.
You Are Expressing An Opinion When:
You try to define motives of a person's behavior.

You try to predict future events.

You try to predict what people will do.
There Are Different Kinds Of Opinions
1.Inference
It is a statement about the unknown based on the known, e.g., from observation of clouds and thunder to say "It is going to rain".Inference is a conclusion from given data.
It is a guess, and may be an informed or uninformed guess.
It goes beyond the facts of the case.
2. Judgment
An operation of the mind, involving comparison and discrimination.
Involves an expression of approval or disapproval of the person, object, or situation. Statements beginning "I think...", or "It seems to me..." are of this type.

Judgment, like inference, goes beyond the facts of the case.
Judgment may be sound and logical but it may not.

Some words themselves constitute a judgment. For example:
Scab....................Prince
Radical.................Conservative
Crackpot...............Sound Man
The judgment implied in any of the above types of words varies according to the way it is used and the situation in which it is used.
Facts, Facts, Facts !
Fact finding is difficult and time consuming
It is sometimes impossible to get all the facts.
There is no substitute for the facts.
Get as many as you can.
Accuracy demands work, you can't get out of it but it is worthwhile.
Don't Depend on Hearsay
For Example:
Instead of accepting what a person says his work record is, check the record yourself.
Instead of taking a workers or foreman's word that a certain condition constitutes a hazard, go examine the condition yourself.
It is impossible to avoid the use of inference or judgment for all of the facts are not always obtainable. We should always be sure that our opinions are as objective as possible. Always obtain as many facts on a situation as you can and make sure that your opinion fits as close to the facts as possible.
It can be difficult, sometimes, to interpret facts. If you don't see the significance of the facts, they are of no value to you.
When dealing with facts DON'T:
Don't select only facts which support your point of view.
Don't take the view that the facts which disagree with your point of view are irrelevant or unimportant.
Don't look at just some of the facts in a situation.
Don't try to distort the facts, let them speak for themselves.
Examples showing the difference between fact and opinion
1. Opinion: Superintendent Smith lied to us.
Facts: Superintendent Smith told us he didn't have the report with him. Later, when he opened his briefcase, the report fell out onto the table.

Reasons: To say that Superintendent Smith lied is to make several assumptions.

That he knew the report was in the briefcase.
That he was deliberately attempting to deceive.

The facts are what actually happened.

The opinion is a judgment, because we think that his action is wrong, and we express disapproval
2. Opinion: Superintendent Anderson became angry at the hearing.
Facts: At the hearing, Superintendent Anderson swore, became red in the face, and thumped the table.

Reasons: We are inferring here that the Superintendent was angry on the basis of observing his actions. But, he may have been putting on an act. In this particular case, the inference may be pretty safe, but it is nevertheless an inference. It also might involve judgment, i.e., if we think getting angry is good or bad.
When arguing and debating, distinguish clearly between Facts and Opinion.

---
Sample Claim and Grievance
File: CY-31-09(B)

Mr. John Brown, Superintendent
Egregious Railroad Company
1234 Railroad Drive
Philadelphia, PA 19999
Dear Sir:
Presented here for your consideration and adjustment is a claim arising at Coach Yard, Philadelphia, PA.
STATEMENT OF CLAIM:
1. Carrier violated the BMWED Agreement at Coach Yard, Philadelphia, PA, on Saturday, July 20, 2009, when it failed to call and use B&B Painter J.C. Smith to perform the work of painting the Coach Yard Shop manager's office, instead assigning the work to employes of Acme Maintenance Company, an outside contractor.
2. Carrier shall now be required to compensate J.C. Smith one day's pay (eight hours) at the time and one-half rate of the B&B Painter position ($296.88) for Saturday, July 20, 2009. which he would have received had he been properly called.
STATEMENT OF FACTS:
During the time frame relevant to this dispute, Claimant J.C. Smith, seniority date July 13, 1978, was regularly assigned to the position of B&B Painter, Gang C012 headquartered at Coach Yard Shop, Philadelphia, PA, with assigned hours from 7:00 A.M. to 3:30 P.M., Monday through Friday. This is a five-day position and is not relieved on rest days of Saturday and Sunday, The bulletined duties of the position of B&B Painter include the following: "Paints, sizes, glazes, stains, tints or decorates with paint, or a substitute for paint, on structures and preparation of such surfaces for painting." See Job Bulletin 318-MAT-0708 dated July 17, 2008, attached.
On Saturday, July 20, 2009, the first of Claimant's two regularly scheduled rest days, Mechanical Manager Wood determined that his office at Coach Yard could not wait until the following Monday to be painted. However, rather than call Claimant to perform the necessary painting duties which he performs during his normal work week, Carrier contracted the services of Acme Maintenance Company (AMC) to perform the painting work. An AMC two-man crew performed the disputed duties from 7:00 A.M. to 3:30 P.M. on Saturday, July 20, 2009, as reflected by AMC's invoice No. 902035, copy attached, billing Carrier for such service.
See also attached statement of J.C. Smith and R.L. Green attesting to the foregoing facts.

POSITION OF EMPLOYES:
It is the position of the Employes that Carrier violated the Scope and Classification of Work rules when it failed to call and use Claimant to perform painting duties which it deemed necessary on Saturday, July 20, 2009. Scope and Classification of Work rules provides as follows, in pertinent part:
(a) Positions or work within the scope of this Agreement belong to the employes covered thereby and nothing in this Agreement shall be construed to permit the removal of positions or work from the application of these rules.
The work in dispute is assigned to Claimant by both Scope and Classification of Work rules and by bulletin, as well as custom and practice, and Claimant has historically performed such work. The work of painting offices which was performed by AMC on Saturday, July 20, 2009, is clearly and inarguably work coming under Scope and Work Classification rules of the Agreement and the performance of such work by AMC constitutes a removal of work which is expressly forbidden by the literal language of the Agreement.
Claimant was available on Saturday, July 20, 2009, and was entitled by Rule 55 to be called to perform the painting work in dispute. Had Claimant been called as required, Rule 44 provides that such service would have been at the time and one-half rate. Employee records reflect eight man-hours of work performed and Claimant must be made whole for his loss of work opportunity in the same eight hour quantum.
Please advise as to pay period in which claim will be settled.


Yours truly,
Local Chairman


cc: J.C. Smith, Claimant
---
Time Claim Form, to submit 1st level or initial claims, print out this form, fill in the blanks, and mail or hand deliver to Amtrak's designated officer. You will need a certified mail receipt and return request card readily available from any Post Office prior to completing this form. There is a space on the form to include the certified mail number. This number and receipt is important. Without it, there will be no proof that Amtrak received your claim. Be sure to keep a copy of the claim and any enclosures you might attach with it, such as pay stubs, rosters, qualification cards, statements, etc.
Remember, this is your claim, these are your assertions, this is your complaint. Somehow Amtrak violated the agreement and caused you a dissatisfaction or a missed work opportunity. You are speaking up when you file a claim. You should file simple claims on your own behalf not only because you were there when the violation took place and you know the circumstances, but because you'll know when you submitted the claim and when to expect Amtrak's answer. You'll know that the claim was submitted within the sixty (60) days required by Rule 64, and you'll know if Amtrak answered your claim within their response time limits. Would you let someone else bid a job for you? Doubtful. File these simple claims. It's as easy as bidding a job.
Download and Print Time Claim Form
View a sample of a completed basic Time Claim form
---
Time Claim Information form is available to download, print, and complete when you are not sure if there has been a violation of the agreement and you would like to have the issue investigated or an interpretation of the contract. This form along with your separately written statement is then given to your Local Grievance Chairman so it can be determined if a claim should be developed. Please include other information with the form such as written statements of witnesses, co-workers, pictures, if any, job briefings, or any relavant information. Your Claim Information form will not be investigated or processed without your written statement accompanying the completed form.
---
BMWE Vice President Fred Wurple's letter
March 10, 1976 Informative letter written by BMWE Vice President Fred Wurple, wherein Grievance handling is addressed. While this letter might seem dated, the content is just as relavant today as it was in 1976. This letter serves as a guide for submitting claims on railroad properties. Facts are facts and while they can be argued against, it it diffucult to dispute facts that are supported with documentation. Remember, the only bad claim is the one that wasn't submitted.
OFFICE of the VICE PRESIDENT
NORTHEAST REGION
BROTHERHOOD OF MAINTENANCE OF WAY EMPLOYEES
March 10, 1976
General Chairman
Vice Chairman
District Chairman
Local Chairman
Northeast Region

Dear Sirs and Brothers,

In the manner of handling grievances it is very important that all basic facts are investigated and known to be true. In my experience of handling grievances before the Railroad Management and Adjustment Board, I find that in many cases the weakest part of our claim is that our facts are not complete. Therefore, it is a must that there be a thorough investigation to develop pertinent data and facts.

In general, the Chairman of a Grievance Committee or Representative responsible for the institution of a grievance should keep in mind the following very important questions, namely: WHO, WHAT , WHEN, WHERE, and WHY? His letter filing a complaint of a violation with the railroad official in the first step of the grievance channels should have an answer to those questions named above. However, after the claim is denied, if it is so denied, the appeal taken to the next highest officer should be more specific in that it should name names, specify dates, even time of day and all such other information which is so important when the case reaches the highest state of adjustment, namely, a hearing before the Board or before a Referee. Once a case is denied and is appealed to the higher officials on the railroad, it should be assumed that the dispute is then a potential Board case. With that thought in mind, the following steps or points will without a doubt be helpful in the handling of such disputes.

Be very specific. Do not say with references to a claimant or other person involved, "an employe in the Track Department" or "a B+B employe". Name him by name and gang number, if possible.

Give the exact date the violation of Agreement occurred. Do not say "sometime in June of 1973", for instance, but rather say "on June 15, 1973". Further, if possible state the time of day, AM or PM, 5:00 o'clock or what ever the case may be.

Do not presume or assume as to what occurred but get a detailed explanation of the happening from someone who either was involved or was an eyewitness so that there will be no difficulty about establishing just exactly what occurred. All these details and descriptions of an occurrence are very important in the later handling of the case.

If the dispute concerns seniority, such as the seniority on one employee has against the seniority of another, do not say that John Doe was senior to Sam Smith, but rather say, in addition, that the current seniority shows "John Doe with a seniority date as Carpenter and specify his date while the same seniority roster shows Sam Smith with a seniority date as Carpenter and specify his date exactly".

If, in the initial stages of filing a case, it develops that there is some controversy over the exact happenings, then and then promptly, statements from witnesses or others to be involved, by either affidavit or signed statements, are very necessary to be obtained and placed in the file. Going back to the parties involved after a lapse of a year or two is not always desirable because in many instances the employees forget the happenings, are a little hazy on some of the facts, and sometimes even reluctant to reveal the facts, or even dead in some cases. Also a referee in handling a case is a little reluctant to accept a bona-fide statement, one that was obtained just prior to the date of the hearing. It is much more acceptable as evidence in the case if the signed statement of witness or others involved, or the affidavit of those concerned, is approximately dated during the time period when the case itself was being progressed in the field. It carries much more weight.

If you allege that the BMWE Agreement was violated and/or the Rules were violated during the handling on the property (before it goes to the Board) the rule or rules must be identified to Management and so indicated in the proceedings. Claims have been dismissed because the Organization failed to identify any rule or rules violated during the handling on the property.

If an Officer of the Railroad in the early stages of the handling of a dispute should inject into the picture some reason for his declination, which is not a part of the initial claim, then by all means in progressing the appeal either the Grievance Chairman or however is handling the case in the appeal stage should make some explanation or reference to what the railroad official has said. In other words, do not leave it hanging in midair without any explanation or any recognition taken of some new angle injected into the claim by the railroad officer.

If there are any claims that have been paid similar to the one then being progress, reference should be made to such other claims if known and if possible, a quotation from the letter of settlement should be made.

Many of our grievances are based upon what is called "common practice" or "past practice". The past practice of a rule in the Agreement is controlling in the eyes of the majority of Referees as being the interpretation of the rule. However, such past practice must be firmly established by examples and references of what has been done in the past. A mere assertion of past practice is not sufficient.

Give as many details a possible to make the case plain to those who may at the time the claim arose be far removed from it and be in a position to not fully understand the situation. For instance, if the claim is for a call to work overtime hours, the availability of the claimant should definitely be shown. The location of where the man was at the period of time he was to be called, the phone number, if possible, at where he could have been reached, his address or whatever other pertinent information may be obtained.

The forgoing points are not in themselves complete, but only a guide to show to those who are responsible for the institution of grievances in the early stages that they should obtain all the facts necessary to the case and even a surplus of facts. Too many facts or too much explanation will not harm a case but most certainly too little information and too few facts can lose a case. Referees, in general, assume that the person or party that brings the claim up is the party upon whom the burden rests to produce and prove their claim. In most instances it is the employees who bring the claim to the Referee's attention and he, therefore, relies upon the Employees to supply the facts of the case with supporting data. Otherwise, he simply dismisses the claim as being one in which the employee did not prove their case.

Referees, no matter what their personal feelings may be, are in the position to sustain only claims in which there is no basis for so sustaining. They will not go out on a limb to sustain a case because they feel that there is some inequity or injustice concerned. They will, however, sustain a claim and be happy to do so, provided it is supported by documentary evidence in the file which will give them a basis for sustaining such claim.

In the processing of claims or grievances, the Chairman of the Grievance Committee should request the aid of the Vice Chairman, keeping in mind the more facts and information we present to support the claim we are making, the better the opportunity we will have for it being sustained.

Claimants should be encouraged to use a prepared claim form as a guide in furnishing the necessary information.
With best wishes, I am

Fraternally yours,
/s/ FRED WURPLE, JR.

Fred Wurple, Jr.
Vice President
---
My Claim was Answered, Now What?
I received a letter from Amtrak saying my claim was denied. Can they do that? And if so, how long does Amtrak have to answer? And what if they don't answer my claim?
The first paragraph of Rule 64(b) tells us how, when, and were to send our claims. Now the second paragraph of Rule 64(b) will tell us how claims are answered and what if the claim(s) is not answered. Rule 64(b) continues by stating:
"Should any such claim or grievance be disallowed, AMTRAK shall, within sixty (60) days from the date same is filed, notify whoever filed the claim or grievance (the employee or his representative), in writing, of the reasons for such disallowance. If not so notified, the claim or grievance shall be allowed as presented, but this shall not be considered as a precedent or waiver of the contentions of AMTRAK as to other similar claims or grievances."
The second paragraph or Rule 64(b) contains important details in connection with Amtrak's response to our claim.
1. "Should any such claim or grievance be disallowed, AMTRAK shall, within sixty (60) days from the date same is filed, notify whoever filed the claim or grievance (the employee or his representative)…" You mailed your claim US Certified Mail with a return receipt. The green card from that mailing was returned to you indicating that the claim has been received.
The date that's stamped or written in Box C of the green card is a good starting date to begin the countdown. The correct Amtrak officer or his authorized agent received the claim and Amtrak now has 60-days to respond to the claim. In the case of hand delivery, the date received stamp or other such indication will act as support.
2. "… in writing, of the reasons for such disallowance." If the claim is to be denied, that denial must be in writing and must provide clear reasons as to why. Simply stating the "claim is denied" is not enough. The reasons given for the denial must be evaluated to determine whether or not there is disagreement as to the facts.
If the reasons given for denying the claim are frivolous, intentionally vague, or obviously incorrect, Amtrak officers on appeal will find it diffucult to rationalize the basis for the initial denial.
3. "If not so notified, the claim or grievance shall be allowed as presented" The claim was submitted to the correct Amtrak officer over 60 days ago, as proved by the return receipt from the US Postal Service showing that Amtrak signed for and received the claim. The claim has not been answered. The language of Rule 64(b) is clear in meaning and intent. Claim allowed as presented. NRAB Award 3-36047 held: "We therefore conclude that the claim must be sustained on the ground that the Carrier defaulted by not timely denying the claim that had been filed with the Division Manager... This decision is based solely on the procedural violation by the Carrier, and we express no opinion on the merits of the claim, including the Carrier's argument that payment at the overtime rate is excessive."
---
RULE 83 - ACCREDITED REPRESENTATIVE
The term "duly accredited representative" as used in this Agreement, shall be understood to mean the representative or System Officer of the organization signatory hereto.
---
"An Injury To One Is An Injury To All"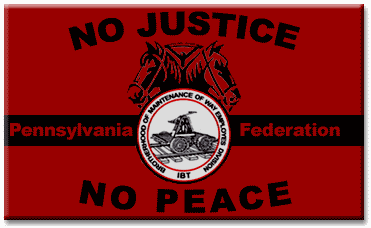 ---
Snitch
Next to a scab, a snitch or an informer is one of the lowest forms of humanity. All we have is our ability to stick together. Statements given to railroad management and their agents will only be used against you.

Management is not interested in the truth and is only interested in protecting their money at our expense. Be careful what you say and never volunteer any information.

Remember, nobody likes a snitch. No one can say you saw something that you did not see. This includes but is not limited to injuries, investigations and accidents of all kinds.