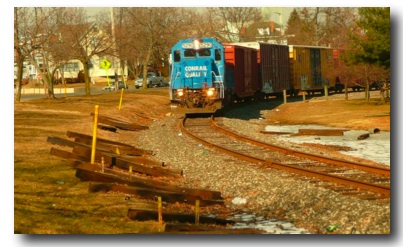 ---
A Brief History of Conrail

Conrail began operations in April 1976, although its origins go back to the earliest days of railroading in North America. The oldest segment of what became Conrail was the Granite Railway Co., built in 1826 to carry granite blocks for the Bunker Hill Monument in West Quincy, Massachusetts. Nearly 150 years later, scores of railroads in the Northeast and Midwest had been acquired or merged into six different lines: Central Railroad of New Jersey, Erie Lackawanna, Lehigh & Hudson River, Lehigh Valley, Penn Central, and Reading.

In the early 1970s, one by one, these six railroads entered bankruptcy. Although there were many reasons for the economic difficulties they faced, chief among them was competition from trucks, subsidized by the federally-built Interstate highway system, and an archaic system of economic regulation which prevented railroads from responding to the needs of the market. As freight revenues declined, railroads deferred maintenance, allowing tracks and equipment to fall into poor condition, and as service levels deteriorated, more business went to trucks. Requirements to run money-losing passenger service added to the rails decline.

The federal government, recognizing the national economic importance of the six railroads, responded by creating Conrail and appropriating the funds needed to rebuild tracks, locomotives and freight cars. While Conrail succeeded in rebuilding the railroad, the problem of severe economic regulation remained. With the passage of the Staggers Act in 1980, many of these constraints were loosened, giving railroads more freedom to compete with trucks. Later, other legislation transferred the burden of operating money-losing commuter rail service from Conrail to state agencies. In the 1970s, Congress created Amtrak to take over intercity passenger service from the nation's freight railroads.

By 1981 Conrail began its financial turnaround. After June 1981, Conrail would no longer require federal investment, and finished the year with the first profit in its history.

With Conrail continuing to succeed in providing high quality service for its freight customers and improving its financial outlook, the federal government sold its ownership interest in Conrail through what at the time was the largest initial public stock offering in the nation's history. This March 26, 1987 transaction, with added cash payments from Conrail to the U.S. Treasury, produced about $1.9 billion for the taxpayers and returned the Northeast-Midwest rail freight system to the private sector as a for-profit corporation, as Congress had envisioned when it created Conrail as Consolidated Rail Corporation.

In the spring of 1997, Norfolk Southern Corporation and CSX Corporation agreed to acquire Conrail through a joint stock purchase. The Surface Transportation Board officially approved the acquisition and restructuring of Conrail on July 23, 1998. The the approved merger plan restructured Conrail into a switching and terminal railroad that operates as an agent for its owners, Norfolk Southern and CSX, in the Shared Assets Areas of Northern New Jersey, Southern New Jersey/Philadelphia, and Detroit.
---