April 27, 2021 - Agreement in connection with 2021 Production Season for DPG Timber and Surfacing Gang work, including bonus qualifications.
---
March 2 2021 - Norfolk Southern Railway admits that it is a federal government contractor subject to the nondiscrimination and affirmative action compliance requirements of Executive Order 11246, as amended, the Rehabilitation Act of 1973, as amended, and the Vietnam Era Veterans' Readjustment Assistance Act of 1974, as amended. The implementing regulations of these laws require ALL federal contractors to communicate and work with their labor union officials to inform them of the company's nondiscrimination and affirmative action policies, and to request their cooperation in complying with applicable nondiscrimination and affirmative action requirements.
---
February 17, 2021 - DPG Rail Gang Agreement for the remainder of the 2021 Production Season.
---
September 1, 2020 - DPG gang agreement. This agreement results from the parties' intent to address a unique situation where NS seeks to re-establish two DPG Gangs that were previously abolished prior to the end of the 2020 production season and add six positions to existing DPG Gangs.
---
July 28, 2020 - Again the BMWED writes Squires reagrding Norfolk Southern's insufficient and negligent response to protecting workers from exposure to COVID-19.
---
April 3, 2020 - BMWED letter to Norfolk Southern reagrding the corona virus and social distancing.
---
March 19, 2020 - BMWED President Freddie N. Simpson sent official letters today to the country's largest railroads urging them to protect the safety of their employees during the current global and national pandemic.
Public servants, hospitals, grocery stores and other vital industries and programs need to meet their supply chain demands. We understand and greatly appreciate those efforts. BMWED members, as well as all crafts of Rail Labor, understand their critical roles during this unprecedented emergency.
That said, the BMWED remains committed to the health and safety of our members. We have communicated those to the carrier CEOs and we trust their commitment to their employees – as well as their employees' families – will be just and fair.
This link contains the letters President Simpson sent to NS.
---
June 25, 2018 - Updated list of Labor Relations Officers and their assorted responsibilities.
---
April 20, 2018 - Norfolk Southern EAP updates.
---
December 21, 2017 - Meal and Travel Allowance increase pursuant to Article of the February 27, 2012 Memorandum of Agrement. Our meal and travel allowances are subject to a semi-annual adjustment, and effective January 1, 2018, these adjustments are implemented providing increases to both. We expect to see additional increases July 1, 2018. Read NS's letter.
---
September 5, 2017 - Norfolk Southern's intent to restrict our heavier workers. The infamous "Weight Watchers" bulletin and correspondence can be viewed here, including positions from their side and from ours.
---
July 1, 2017 - Our 2012 negotiations has produced an increase to the 2017 meal allowances(s). View Norfolk Southern's letter.
---
June 17, 2014 - Norfolk Southern's Labor Relations Vice President Scott Weaver has advised as to changes in Labor Relations managers, including those designated to receive our claims and grievances. Read letter here
---
May 2017 - The Chattanooga 42 - Norfolk Southern Corp just recorded a record profit for the first quarter 2017 and voted for a 34.6% pay increase for CEO Jim Squires. Yet in spite of increased revenue, record profits, and decreased operating ration, NS displaced 42 of the 71 carmen from Chattanooga. That equates to 60% less personnel inspecting hazardous chemicals and nuclear waste cars from sites such as Olin Chemical or the Y-12 in Oak Ridge. Think about that the next time a train rolls through your town. We don't evacuate homes, we evacuate cities! Read More...
---
March 23, 2017 - Tons of Money. Summary Analysis of Norfolk Southern's 2015 Annual and Q3-2016 Results.
---
January 5, 2017 - Norfolk Southern advises on increases in meal allowances for workers lodged in Camp Cars and hotels. View Scott Goodspeed's letter, including allowances for one-way and 100 plus mile travel.
---

---
February 29, 2016 - BMWED Sues NS - Again - Norfolk Southern's failure and refusal to publish seniority rosters as required by the BMWED agreements, and Norfolk Southern's failure and refusal to perform functions necessary for BMWED members to exercise their seniority and displacement rights under those agreements and as mandated by those agreements, negated provisions of Norfolk Southern's agreements with BMWED, and abrogated Norfolk Southern's contractual commitments to BMWED in violation of the Railway Labor Act, Section 2, Seventh. View complaint
---
September 8, 2015 - BMWED responds to Norfolk Southern's notion that compensation paid for Meal and Travel Allowances can be lowered when performance metrics decline.
---
May 20, 2015 - BMWED's responds to the Thermite Welding issue on Norfolk Southern.
---
November 17, 2014 - Norfolk Southern and the Delaware & Hudson Railway Co, a subsidiary of Canadian Pacific Railway today announced a proposed transaction under which NS would acquire 282.55 miles of D&H rail line between Sunbury, Pa., and Schenectady, N.Y. The $217 million sale, subject to approval by the U.S. Surface Transportation Board, would benefit customers, competition, and jobs in the northeastern United States.
NS intends to retain its current employees and offer employment to about 150 D&H employees currently working in this area. Any adversely affected employees will be entitled to standard labor protections. Read More... from NS press release
---
October 31, 2014 - Recently we received a petition and letter from members of the Union, most of whom work in Conway Yard. These members are concerned about an agreement we reached recently with Norfolk Southern regarding the construction of track in Conway Yard by outside contractors. Because this issue affects all members of the Union, we are sending a copy of our response to all members of the Pittsburgh prior rights district. These members have valid concerns and we are happy to take this opportunity to address them.
Follow this link for letter to membership including attachments and Conway Yard agreement.
---
October 14, 2014 - Contracting out thermite welding is Norfolk Southern's latest attack against workers.
---
June 17, 2014 - Norfolk Southern's Vice President D.L.Kirby has advised as to changes in Labor Relations managers, including those designated to receive our claims and grievances. Read letter here
---
June 2, 2014 - Agreement with Norfolk Southern returning the BMWED work of distributing tie plates in conjunction with dual rail, single-side rail, curve rail, or gauging projects throughout the NW-Wabash system.
---
October 22, 2013

- Eligible BMWED-represented Engineering Department Employes who retire effective January 2, 2014, after providing the appropriate supervisor write notice of their desire to do so, will be considered to have qualified for pay of future year(2015) vacation, even though they have not yet performed compensated service on the actual number of days required to earn such vacation in 2015.
Such employes who retire effective January 2, 2014, will receive a lump sum payment in lieu of any unused, earned 2014 vacation and for their 2015 future year vacation at the time of retirement.
View details here
---
October 4, 2013 - Pursuant to the February 12, 1212 agreement, Norfolk Southern intends to stop the hard copies of advertisement and award bulletins and seniority rosters and to switch to an electronic bulletin and award process beginning November 1, 2013. A copy of Norfolk Southern's letter advising of this change over, and their online bidding instructions and log-in procedures can be viewed at this link.
---
July 1, 2013 - Norfolk Southern's Vice President Scott Weaver has advised as to changes in Labor Relations manangers, including those designated to receive our claims and grievances. Read letter here
---
February 25, 2013 - NS Seniority Agreement governing IAMAW-represented Roadway Equipment Mechanics working the Pittsburgh Division. View agreement
---
January 1, 2013 - New mileage rates, an increase to 56.5 cents per mile for reimbursed mileage, up from 55 cents per mile. View Scott Weaver's letter here.
---
March 12, 2012 Norfolk Southern designates C.S. Decker as appeal officer to handle highest level of appeal for claims and grievances in connection with medical issues. View letter to our General Chairmen from Norfolk Southern's S.R. Weaver, Vice President Labor Relations.
---
October 17, 2011 "Like the NS, the BMWED strongly prefers that our fight to protect our members be as civil as possible. Unlike the NS, the BMWED recognizes that this fight is not like an argument between two corporate departments arguing about differing strategies of tax treatment of depreciable assets. The BMWED understands on a personal level that our members are suffering needlessly from the institutional and sometimes personal intention of NS management to intimidate and prevent their reporting of accidents, incidents, close calls, and medical needs." Read more of President Simpson's letter to VP Labor Relations Mobley.
---
August 29, 2011 Before the new payroll system becomes effective next year, NS will discontinue the distribution of NS-produced paper paychecks. This cutover is scheduled for the check dated October 21, 2011.

A Payroll Distribution Options packet will be forwarded to each employee currently receiving an NS-produced paper check, explaining the new process and the available payment options. This mailing is anticipated to kick off on September 12, 2011, in order to give the affected employees sufficient time to make an informed selection for receiving their pay: Direct Deposit or Direct Check. Note that this correspondence to the employees includes the phone number for the Payroll Help Line. If you do not receive your Direct Check startup packet in the mail by October 17, 2011 and have not elected to participate in Direct Deposit, please contact the Payroll Helpline at 1-800-624-4193. View Payroll Distrubution Options packet here.
---
April 2011 OSHA addresses Whistleblower Protections when a NS conductor was terminated for reporting nauseous odors while bleeding of railcars. The award reinstated conductor, making him whole for lost wages and seniority, inculding legal fees. View award.
---
February 28, 2011 Norfolk Southern makes updates concerning which Company Official is designated to handle claims and grievances.
---
April 16, 2010 BMWED President Simpson writes Harold Mobley, Vice President Labor Relations, regarding the Norfolk Southern attitude towards safety. Read President Simpson's letter here.
---
April 7, 2010 NJ Transit ordered to pay employee $570G in whistleblower case. A New Jersey Transit employee has received a record $569,587 award after a federal investigation found that NJ Transit illegally retaliated against the Clifton man — resulting in his losing his home, car and credit rating — for reporting an injury to another worker. Read More...
---
March 16, 2010 Norfolk Southern is proud of their safety record, but is their railroad really safe, or do they simply falsify the data regarding injuries? Complaints in behalf of individual injured members of the BMWED, represented by Union lawyers, have been filed under the Whistleblower laws with the Occupational Safety and Health Administration. These complaints allege that Norfolk Southern, and its managers, have engaged in a pattern of systematically intimidating witnesses, denying proper medical attention to injured workers and discharging employees who report injuries. Read the March 2010 Norfolk Southern Edition of An Appeal To Reason.
---
March 3, 2010 In a letter from NS Vice President Labor Relations Mobley, the Carrier has designated which agent is responsible for handling claims and grievances.
---
February 5, 2010 The rails have all reported their fourth quarter 2009 earnings and are summarized. Generally speaking the results were not very impressive – analyst consensus estimates were either slightly missed or just reached and there were no meaningful beaten expectations. View NS summary.
---
September 30, 2009 NS has served notice to consolidate certain seniority districts involving the Northern Region. Under the terms of imposed agreement NS has this right and we are required to meet with NS and bargain over its implementation. There are four General Committees involved and two separate collective bargaining agreements and we have not yet determined how we will approach this issue. We will be meeting internally to determine the best course of action for all of us. If we are unable to reach an agreement with NS then the railroad has the right to move the issue to arbitration and an arbitrator will determine how and under what circumstances the seniority district mergers will occur or could determine that NS has not shown a sufficient operational need to effect these mergers. Date Link directs viewer to NS notice.
---
June 3, 2009 Norfolk Southern Corp. (NSC) will have little choice but to further cut jobs and capital spending if new regulations cap its ability to raise prices, the railroad's top executive said Wednesday.
---
May 18, 2009 Agreement reached with Norfolk Southern which settles most of the outstanding disputes related to the implementation and interpretation of the N&W Agreement. Download and view the general membership letter explaining settlement.
---
January 21, 2009 Herr Street underpass repairs under way
---
January 16, 2009 Are the cracked railroad overpasses in Scotland, Pennsylvania safe? Neither the state nor the federal government could answer specifically about the safety of the 100-year-old railroad overpasses.
---
NS Maintenance of Way Vehicles on Parade
YouTube Videos - We found some videos hanging on the web and have re-posted the links here, along with authors comments. Mildly interesting.
NS MOW crews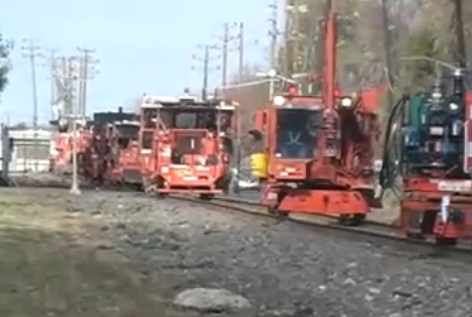 had done extensive trackwork on the Beesley's Point Secondary in South Jersey. They're on their way to be loaded onto their train, which is on a siding just a short distance away. Over 20 vehicles are in this group. See video here.
Another YouTube video of NS Maintenance of Way crews and equipment. December 11, 2007. MoW Parade! Nice horns! 12 different machines head west through CP Prescott after a days work. View video here.
One more from the same area and author. See video here.
Yet another Youtube video of NS Track work. Threading rail, spikers, etc. See video here.
Hard to believe all the excitement over track equipment. If these foamers spent a summer week in a tie gang, they would throw their camera's in a ditch and take up another hobbie. One more video of NS track equipment here.
---
Route Map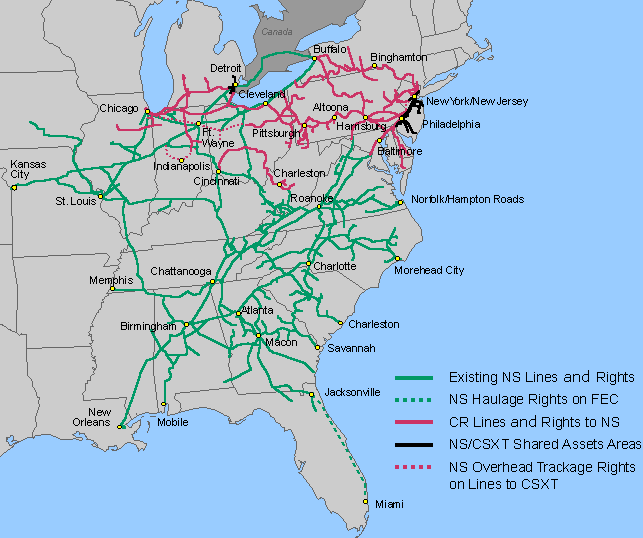 ---
Snitch
Next to a scab, a snitch or an informer is one of the lowest forms of humanity. All we have is our ability to stick together. Statements given to railroad management and their agents will only be used against you.

Management is not interested in the truth and is only interested in protecting their money at our expense. Be careful what you say and never volunteer any information.

Remember, nobody likes a snitch. No one can say you saw something that you did not see. This includes but is not limited to injuries, investigations and accidents of all kinds.
---
"An Injury To One Is An Injury To All"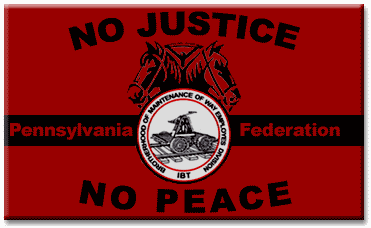 ---