Rates of Pay on Norfolk and Western Railway Company
MAINTENANCE OF WAY/ENGINEERING DEPARTMENT
| | | | |
| --- | --- | --- | --- |
| BRIDGE & BUILDING DEPARTMENT | | | |
| | | $27.71 | $28.54 |
| | | $27.71 | $28.54 |
| | | $27.37 | $28.19 |
| | | $26.68 | $27.48 |
| | | $25.28 | $26.04 |
| | | $27.71 | $28.54 |
| Asst. B&B Plumber Foreman | | $27.37 | $28.18 |
| | | $26.68 | $27.48 |
| | | $25.28 | $26.04 |
| | | $26.62 | $27.41 |
| | | $25.28 | $26.04 |
| | | | |
| --- | --- | --- | --- |
| TRACK DEPARTMENT | | | |
| | | $27.24 | $28.06 |
| Track Foreman-Extra Gang (40 men or more) | | $27.38 | $28.20 |
| Track Foreman-Extra Gang (21 men & less than 40) | | $27.24 | $28.06 |
| Track Foreman-Extra Gang (20 men and less) | | $27.08 | $27.89 |
| Asst. Track Foreman - Section | | $26.76 | $27.56 |
| Asst. Track Foreman - Extra Gang | | $26.73 | $27.53 |
| | | $24.84 | $25.59 |
| | | $24.84 | $25.59 |
| | | $24.84 | $25.59 |
| | | $26.62 | $27.42 |
| | | $25.28 | $26.04 |
| Roadway Machine Repairman | | $27.16 | $27.97 |
| Roadway Machine Repairman Helper | | $25.32 | $26.08 |
| | | $24.84 | $25.59 |
| | | $24.57 | $25.31 |
| | | $25.20 | $25.96 |
| | | | |
| --- | --- | --- | --- |
| MACHINE OPERATORS - CLASS 3 | | $25.75 | $26.51 |
| Boltmaster Joint Straightner, Track Liner, Handyman, Automatic Anchor Applier, Tie Spacer, Snow Flanger, Wood Burner or Rail heater, Brush Cutter, Tie Bed Scarifier/inserter, Tie Butt Pusher, Fairmont Tie Extruder-Larger, Wide Gauge Rail Threader-Dual Rail Gang, Standard Gauge Rail Threader-Dual Rail Gang, Cribber-Dual Rail Gang Gauge Spiker-Dual Rail Gang, Rail Gang air Compressor, Tie Destroyer, Snow Plow, Anchor Spreader, Anchor Adjuster, Plate Remover-Single, Plate Remover-Dual, Scrap Loader, Automatic Rail Lifter, Norberg Grabber Spike Puller | | | |
| | | | |
| --- | --- | --- | --- |
| MACHINE OPERATORS - CLASS 2 | | $26.44 | $27.23 |
| Bulldozer, Front End Loader, Backhoe, Crossing Machine-Speedwing, Tampers (without auto raising & lining), Ballast Regulator, Road Grader, Tie Inserter or Injector, Yard Cleaner, Auto Track-Lorarn (Manniz), Switch Undercutter, Plasser Cribber, Tie Handler, Tie Saw, Tie Shear, Brush Cutter (on track), Audigage, Jet Snow Blower, Double Broom, Ballast Compactor, Klipper Brushcutter, Tractor Brushcutter, Tie Exchanger, FEL, w/snow Blower, Adzers, Automatic Spikers 4-Head Tie Drill, Norberg Automatic Lag Driver | | | |
| | | | |
| --- | --- | --- | --- |
| MACHINE OPERATORS - CLASS 1 | | $26.56 | $27.36 |
| Locomotive Crane, Burro Crane, Crawler Crane, Truck Crane, Gradall-Hydraexcavator, Pile Driver, Production Tamper (with auto raising & lining), Jordan Spreader, Undercutter/ Cleaner, Jimbo Material Handler, Track Stabilizer, Soil Test Machine, Car Mover, Multi-Cranes, Beihack Snow Blower, CAT Tamper | | | |
Download a printable copy of the Norfolk Southern rates of pay effective July 1, 2014
---
Unions have a substantial impact on the compensation and work lives of both unionized and non-unionized workers. While only 14 percent of nonunion workers have guaranteed pensions, fully 68 percent of union workers do. More than 97 percent of union workers have jobs that provide health insurance benefits, but only 85 percent of nonunion workers do. Unions help employers create a more stable, productive workforce—where workers have a say in improving their jobs.
Unions raise wages of unionized workers by roughly 20% and raise compensation, including both wages and benefits, by about 28%.

Unions reduce wage inequality because they raise wages more for low- and middle-wage workers than for higher-wage workers, more for blue-collar than for white-collar workers, and more for workers who do not have a college degree.

Strong unions set a pay standard that nonunion employers follow. For example, a high school graduate whose workplace is not unionized but whose industry is 25% unionized is paid 5% more than similar workers in less unionized industries.

The impact of unions on total nonunion wages is almost as large as the impact on total union wages.
?
By bargaining collectively, union members are able to negotiate higher wages. Union members earn almost 28 percent more than nonunion members. The union wage benefit is greatest for people of color and women. Latino union workers earn almost 51 percent more than their nonunion counterparts. Union women earn almost 34 percent more than nonunion women. For African Americans, the union advantage is 31 percent. The union advantage for white male workers is almost 21 percent. For Asian American workers the union advantage is close to 1 percent.
---
Download a printable copy of Norfolk Southern rates of pay effective July 1, 2011
---
Download a printable copy of Norfolk Southern rates effective July 1, 2009
---
Download a printable copy of Norfolk Southern rates effective July 1, 2008
---
"An Injury To One Is An Injury To All"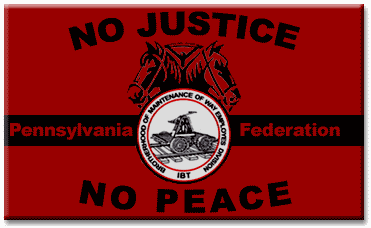 ---
Snitch
Next to a scab, a snitch or an informer is one of the lowest forms of humanity. All we have is our ability to stick together. Statements given to railroad management and their agents will only be used against you.

Management is not interested in the truth and is only interested in protecting their money at our expense. Be careful what you say and never volunteer any information.

Remember, nobody likes a snitch. No one can say you saw something that you did not see. This includes but is not limited to injuries, investigations and accidents of all kinds.