camp car – noun - a railroad car used as a dormitory for construction and maintenance workers.
Railroad camp cars date back to the 19th Century. By the 1980's, most railroads began phasing out camp cars in favor of hotels and motels. By the 1990's, every railroad except Norfolk Southern (NS), which operates in 22 states, completely removed camp cars from use. The NS camp cars became outdated with dismal living conditions. BMWED has been forced to seek relief through state legislatures and Congress. With help from the IBT Rail Conference, old statutes have been revised and new codes have been enacted Legislation has been introduced in Alabama, Mississippi, Ohio, Pennsylvania, Tennessee, and Virginia. The Railroad Safety and Improvement Act of 2008 requires minimum standards by December 31, 2010.

---
October 31, 2011 Camp Car Atrocities Moving Closer to Closure. The Final Rule on campcars is published. We've quickly reviewed the final rule and it appears that FRA adopted a number of BMWED comments, including requirements for potable water for the washing of persons, increase in square foot requirements from 50 to 80 SF, Max 4 occupants per car, prohibitions against multi-level bunk beds, hot potable water in lavatory sinks, improved sanitation provisions, provisions for clean linens, at 24 hours repair/remediation window for non-compliant conditions, smoke alarms and CO2 alarms, first aid kits, fire extingushers, emergency information postings, limitations on placement of cars in vicinity of switching/humping operations and other items.

Additional information is forthcoming.
---
March 11, 2011 - The Brotherhood of Maintenance of Way Employes Division (BMWED) of the Teamsters Rail Conference submits these comments to the docket in the above- referenced matter. BMWED is a railroad labor organization representing approximately 35,000 maintenance of way (MW) employees who build, repair, inspect and maintain railroad tracks, bridges, buildings and related infrastructure on all Class 1 freight railroads, Amtrak, and numerous commuter, regional and short-line railroads. As such, BMWED and its members have a direct and vested interest in this rule making related to camp car safety and health requirements. Read More...
---
January 3, 2011 - Notice of Proposed Rulemaking, Federal Register, Vol. 76, No.1, Safety and Health Requirements Related to Camp Cars
---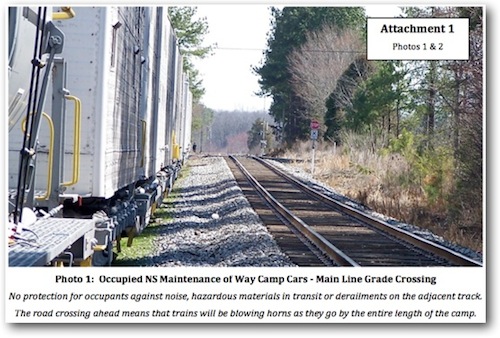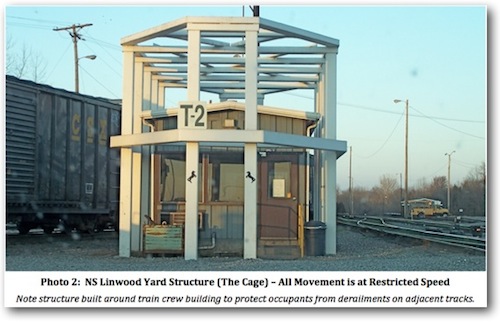 ---
BMWED Resolution requesting the National Division President, National Division Officers, and all parties involved in negotiating with any railroad company, which still utilizes camp car/trailer facilities, to actively pursue agreements which would permanently eliminate the use of camp cars/trailers for lodging our members.
---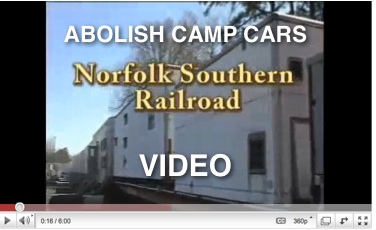 ---
Norfolk Southern Living Quarters Questioned in Virginia's General Assembly
March 2, 2010

You've probably seen them along Norfolk Southern tracks in western Virginia: the mobile camps where maintenance crews stay while they're on the job.
Tuesday in Richmond, members of a General Assembly committee considered whether the state should regulate the living conditions there.
Norfolk Southern has more than 200 of the mobile camp cars.
A representative of the railroad says they're especially useful in rural parts of southwest Virginia.
But union members have complained of cramped quarters, inadequate sanitation and sub-standard cooking facilities.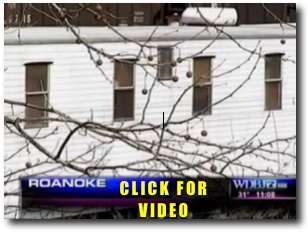 "We're talking about having a bed, having a place to sleep, having some water so you can wash your face," says Del. Johnny Joannou/(D) Portsmouth.
"I will tell you there was no barracks that I ever lived in, whether it was Virginia Military Institute, or while I was in the Marine Corps that would have passed these standards. And when I was in a submarine we could have failed on a variety of levels. There are all sorts of requirements, very specific details that are going to cost money to comply with," says Del. Bill Janis/(R) Glen Allen.
Norfolk Southern says it spent more than $6 million to retro-fit the camp cars in 2008 and 2009.
Committee members are concerned that new federal regulations due out this year would override any state standards.
The Commerce and Labor Committee defeated the bill, but Portsmouth Senator Louise Lucas said she'll be back if the new federal regulations fail to fix the issue.
---
Virginia General Assembly begins steps to end Camp Car horrors, passage of Virginia Senate Bill No. 33
---
October 29, 2008 Camp Car language in Public Law 110-432 – Rail Safety Improvement Act of 2008

---
Fall 2007 - TEAMSTER Camp Car Flyer attacking the living conditions of housed maintenance of way workers.
---
---
September 19, 2007 BMWED response to Norfolk Southern's VP Blake regarding his bullshit over the Camp Car issue
---