---
---
An Appeal To Reason
Jed Dodd, May, 2011
House Republicans Demand Public Transportation Dollars for Their Private Sector Sponsors. The case for passenger rail service, both high speed rail and conventional intercity passenger service is now self evident. Existing modes of transportation currently consume more than two thirds of our nation's oil supply and are responsible for nearly a third of our carbon dioxide emissions. Despite echoes to the contrary from the decedents of the flat earth society, global warming threatens the future of the earth and there is a limit to the amount of oil and carbon based fuel that can be extracted from the ground. Read More...
---
LaHood designates NEC as 11th Corridor, Amtrak now can Directly Apply for HSR Funds
Tuesday, March 15, 2011
Yesterday, U.S. Transportation Secretary Ray LaHood designated the Northeast Corridor (NEC) as the 11th and final high-speed rail corridor. The designation includes the existing NEC main rail line, as well as any alternative routings for rail service between the metropolitan areas of Washington, D.C., Philadelphia, New York City and Boston. Read More...
---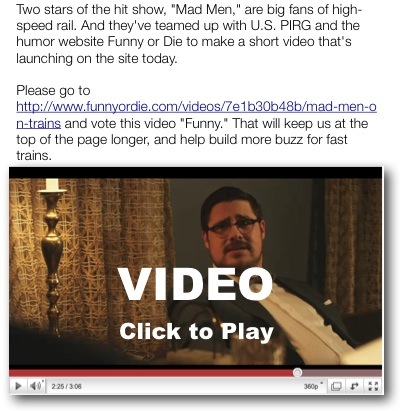 ---
Panel Holds Hearing on Increasing Private Sector Participation in Passenger Rail Service
March 11, 2011

Washington, D.C. – The House Transportation and Infrastructure Subcommittee on Railroads, Pipelines, and Hazardous Materials today held a hearing on finding ways to encourage and increase private sector participation in passenger rail service. Read More...

---
USDOT to Use Competitive Grant Process to Redistribute Florida Funds
March 11, 2011

Today, U.S. Transportation Secretary Ray LaHood announced the U.S. Department of Transportation (USDOT) will launch a competitive grant process so states can apply for the $2.4 billion in high-speed stimulus funds that were rejected by the state of Florida.

USDOT will use a "merit-driven process" to award the funds to projects that can "deliver public and economic benefits quickly," according to a prepared statement. Among the selection criteria: a project's ability to reduce energy consumption, improve the efficiency of a region's overall transportation network and generate sustained economic activity along the corridor. Applications are due April 4.

"The Obama Administration's bold high-speed rail plan will create jobs, reinvigorate our manufacturing sector and spur economic development for years to come," LaHood said. "States across the country have been banging down our door for the opportunity to receive additional high-speed rail dollars and to deliver all of its economic benefits to their citizens."
---
Bill would Slash Funding for Amtrak, Transit Programs
Progressive Railroading

Last month, members of Congress proposed to reduce national debt by cutting funds from a range of federal programs. The legislation caused an uproar in the transit community, as it proposes to cut $2 billion in New Starts funding, $1.5 billion in Amtrak subsidies, $2.5 billion in high-speed and intercity passenger-rail grants, and $150 million in Washington Metropolitan Area Transit Authority subsidies annually. The bill also calls for repealing unspent stimulus funds, which would affect high-speed rail.

American Public Transportation Association officials called the bill "ill conceived and short sighted," and Transportation Trades Department, AFL-CIO leaders said the proposal was "reckless." Amtrak, President and Chief Executive Officer Joseph Boardman said eliminating federal investment for the intercity railroad would "deprive our nation of a critical transportation choice." Read More...

---
Proposed Cuts Would Curtail Plans for Obama's High-Speed Rail Initiative
By Kathryn A. Wolfe, CQ Staff
Feb. 9, 2011 - Republican budget cutters are aiming to halt President Obama's high-speed passenger rail initiative, proposing to slice $1 billion from the account in the current fiscal year.

High-speed rail has been a signature issue for the president, who vowed in last month's State of the Union address to bring 80 percent of Americans access to fast trains within 25 years. Earlier this week, Vice President Joseph R. Biden Jr. unveiled a $53 billion plan for high-speed rail investments over the next six years, including $8 billion in fiscal 2012. Read More...
---
House Transportation and Infrastructure Committee Hearing
January 27, 2011
On Thursday, January 27, 2011, at 10:00 a.m., Grand Central Station, Northeast Balcony, New York City, the Committee on Transportation and Infrastructure met to receive testimony regarding developing true high speed rail in the Northeast Corridor. The hearing highlighted the importance of high speed rail to economic development; opportunities and incentives for private sector investment in the Northeast Corridor; and the need for competition and public private partnerships. Immediately following, T&I Committee members participated in an Read More...
---
No More Taxpayer Cash for High-Speed Rail
U.S.Rep. Mica and Gov. Scott will Support High-Speed Rail if Business Pays

A consensus may be forming -- which includes Gov. Rick Scott -- that a long-proposed Tampa to Orlando bullet train should roll if private businesses wants to pay for the remainder of the ride.

The new Central Florida-based chairman of the U.S. House Transportation and Infrastructure Committee told a rail panel Tuesday in Jacksonville that the new governor would support the train if the state did not have to pay anything more than the about $2.4 billion it will receive for the project from the federal government. Read More...
---
High Speed Rail Plan Released
September 2010

The Federal Railroad Administration has released the highly anticipated National Rail Plan that will lay the foundation for a national high speed rail network across America. A joint effort of the Federal Railroad Administration and the Department of Transportation, the report is the first comprehensive look at rail in America and how important it will be to the future.

From the report: "The United States and world economies are experiencing an increased demand for rail. Expanding U.S. passenger and freight mobility will require a networked railroad system that is able to modernize and increase capacity. With an estimated U.S. population growth of 70 million people over the next 25 years, mostly centered in metropolitan regions, a national rail plan is needed to ensure a coordinated and intelligent system that provides safe, reliable, and efficient passenger and freight rail service."
Download Report
---
BMWED Position on High-Speed Rail
The Teamster Rail Conference supports the development of high-speed rail in America and believes the jobs created by high-speed rail must be safeguarded for railroad workers and as such must be covered by all federal laws pertaining to railroad carriers. Laws like the RLA (Railway Labor Act), FELA (Federal Employers Liability Act), and the Railroad Retirement Act.

The workers currently employed on our nation's railroads are among the most highly skilled and trained in the world because they are covered by a host of federal laws, promulgated to ensure the safety of the industry. To ensure the safety of high-speed rail, any system built must be considered a railroad carrier under the law, so that federal law protects the workers and the communities' high-speed rail runs through.

Safety will be the key to any high-speed corridor, and the BMWED and BLET believe that any high-speed train that runs in this nation must have a certified and trained locomotive engineer in its cab to ensure its safe operation.

One of the ways to ensure that railroad workers do high-speed rail work is through an amendment to the Interstate Commerce Commission Termination Act. This amendment would both address the problems when states (and others) acquiring lines that are intrastate, but part of the interstate system, such as Florida, New Mexico and Massachusetts; the creation of new lines crossing state borders but not connected to the general system of rail transportation like the proposed Anaheim-Las Vegas line; and high speed rail.

The amendment would make these lines rail carriers under the law and would ensure railroad workers receive the benefits outlined by law.
---
July 29, 2010 Amtrak President Joe Boardman's letter to US Congressional Representatives discussing a proposed ammendment to eliminate $1.2 billion in capital funding to Amtrak. Read letter, then contact your representative urging them not to support this ammendment.
---
January 27, 2010 High-Speed Rail Awards region by region, showing Route, estimated potential funding, and a description of what that funding will buy.
---
Beyond the Motor City - High-Speed Rail
PBS Reports on America's Infrastructure ~BluePrint America
A national high-speed rail plan was put forward by President Barack Obama in April 2009, just months after he set aside $8 billion in stimulus funds to begin such an undertaking. But, already, forty states and the District of Columbia have requested over $100 billion for high-speed train projects.

Though any state can ask for funding, the administration has identified 10 potential high-speed rail corridors: California, the Pacific Northwest, Texas, the Gulf Coast,
Florida, a Southeast corridor, the Northeast Corridor, the "Keystone Corridor" through Pennsylvania, the "Empire Corridor" through New York, and a Midwest hub centered in Chicago. Anyone outside these regions will be hard-pressed for high-speed rail dollars.
That $8 billion is going to have to go a long way as, for example, building a system in California — the state furthest along in high-speed rail planning with construction set to start as soon as next year — will cost $42.6 billion alone (up from $33.6 billion just a year ago).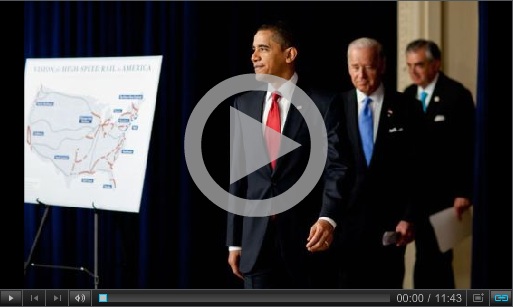 In addition to the stimulus investment, Congress has approved $2.5 billion more in high-speed rail funding for the annual federal budget this year. Still, that is budget to budget, year to year support for projects that take 10 to 20 years to build. And, if a system is implemented nationally, it will cost hundreds of billions of dollars — not counting inflation over the decades it will take to build. Read More...
---
Missouri should get on track with high-speed rail
By R. Hunter Biden, former Vice-Chairman of Amtrak's Board of Directors

January 25, 2010 - In the late 19th and early 20th centuries, railroad pioneers laid out tracks that galvanized Missouri. Today, Missouri is helping lay the groundwork for high-speed rail, which promises to be the greatest advancement in our country's transportation network since we built our interstate highways. Like the interstate, high-speed rail will boost our mobility and productivity. Read More...
---
High-Speed Rail a Clean Win for Commuters
By John D. Porcani, US Deputy Secretary of Transportation
December 23, 2009 - By John D. Porcari, US Deputy Secretary of Transportation - As Americans travel this holiday season, many will be frustrated by long lines at airports and congestion on the roadways, caused by years of neglect to our national infrastructure. President Obama has an ambitious plan to fix these problems, which includes the creation of a nationwide network of high-speed and intercity passenger rail routes. To advance this goal, the president made an $8 billion down payment through the American Recovery and Reinvestment Act and proposed another $1 billion for each of the next five years. Nearly 40 states have applied for this money. Read More...
---
Vision For High-Speed Rail in America
U.S. Department of Transportation, Office of the Secretary of Transportation
April 2009 - (1.4mb) In the 20th century, the United States built highway and aviation networks that transformed the country – fueling unprecedented economic expansion, fostering new communities and connecting cities, towns and regions. Strong public-sector leadership along with private industry partnerships were the lynchpins to that success. States forged the path by identifying the needs and investing in key portions of the system, private industry brought innovation and resources, and the Federal Government provided an integrating vision, the policy roadmap and a funding framework that enabled the realization of a national system. Read More...
---
High-Speed Rail: A National Perspective
High-Speed Rail Experience in the United States

December 2008 - (1.9mb) A report prepared for National Railroad Passenger Corporation by Cambridge Systematics, Inc. with SYSTRA Consulting, Inc. Amtrak commissioned this study to help identify the trends and prospects for improved service – in terms of operating speeds, frequency, and reliability – in rail corridors around the country. The goal of the study was to produce a summary of the lessons learned from the corridor improvement projects across the country and to develop criteria that might describe corridors most likely to succeed with high-speed rail improvements. Read More...

---
---