---
Me Too Dispute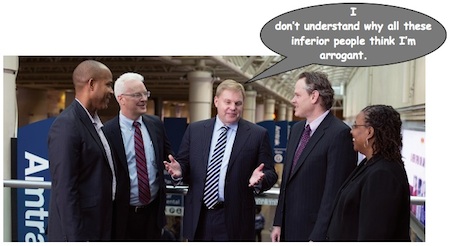 ---
February 8 and 9, 2015 - Two days of testimony and argument before arbitrators.
---
June 19, 2015 - Notice of Settlement and Joint Stipulation of Voluntary Dismissal. The Passenger Rail Labor Bargaining Coalition (PRLBC) and Amtrak have reached and executed an agreement to fully resolve all matters of controversy in this litigation.
June 19, 2015 - Settlement Agreement, Exhibit 1, in which Amtrak agrees to final and binding interest arbitration.
June 19, 2015 - Arbitration Submission Agreement, Exhibit 2.
May 6, 2015 - Amtrak's memo in opposition to Motion for Judgement on the Pleadings, along with Amtrak's Exhibit A.
---
January 30, 2015 - Amtrak's Complaint for Declaratory and Injunctive Relief, whereby the railroad seeks to legally stop the Unions from pursuing arbitration.
---
February 3, 2015 - Amtrak's continuing denial of the claims.
---
December 9, 2014 - PRLBC appeal to Amtrak's 2nd level.
---
November 24, 2014 - Amtrak's 1st level response(s) to our Me Too claims wherein one letter combined the two claims and denied both, asserting (wrongfully) that the PRLBC did not suffer the same work rule changes accepted by the UTU, and that interest arbitrators would have given Me Too to PRLBC had it meant to be. Once again there are very simular denials from all of Amtrak's designees, we have just included one of those responses for reference.
---
October 7, 2014 – Identical 1st level claims were delivered in accordance with Rule 64 to each of Amtrak's designated agents* Bernaski, Costello, Fox, Karczeski, and Hudson, asserting: "In the event the Carrier reaches agreements with other Organizations (representing other crafts) which contain more favorable general wage increases or benefits during the current round of negotiations, such provisions will be incorporated into this agreement, unless such improvement(s) was made in consideration for modification(s) in other work rules in the agreements between the parties."
During the current round of negotiations, Amtrak reached a agreement with UTU covering the UTU Passenger Conductors & Assistant Passenger Conductors that, under Article Ill Section 2(c)2, includes the payment of a wage increase of lump sum payments of $500 for each six months that is not included in the agreements reached with BMWED and BRS. This amounts to a more favorable wage increase or benefit for the Carrier's UTU-represented employees totaling $1000 per year.
Claim(s) seek compensation for BMWED represented workers for each subsequent six-month period wherein Amtrak fails to pay the $500 dollar payment. The Brotherhood of Railway Signalmen (BRS) also submitted claims against this compensation disparity.
Additionally, claims were submitted for a $250 bonus received by UTU workers. Again, this compensation to one group and denial to another violates the Me Too agreements. Amtrak initially admitted paying the $250 bonus to UTU. However Amtrak hid behind the curtain of bad faith when questioned further and denied information in that connection when it was formally requested. Amtrak's avoidance clearly signals that bonus payments to UTU workers are more favorable than those contained in the arbitrated settlement between the PRLBC and Amtrak.
* These agents may have since been replaced with different designees. Please consult Amtrak's most recent advisement for a list of current Amtrak agents designated to receive our claims, grievances, and appeals.
Page Last Updated: Jan 08, 2019 (08:58:45)