---
---
February 25, 2021 - CSX COVID Mask Requirment Alert. The Railroad insists that ALL railroad personnel, including contractors, probationary employees, and any volunteers, engaged in railroad operations on CSX property, must wear a properly fitting face covering (cloth or paper mask) in compliance with Safeway Rule 2009.24. The following exceptions apply to this rule: Read More...
---
!! SAFETY EMERGENCY !!
September 2, 2020 - COVID-19 Emergency on CSX, so bad that our BMWED President has to write a letter to the railroad extending an offer to discuss this emergency and include an example of the worst scenario.
---
CSX VIDEO - KEEP AMERICA MOVING
---
September 1, 2020 - CSX plays hide the bean, or rather hide the information concerning reportable injuries. Federal regulation (49 CFR §225.25(h)), requires, in part, that monthly listings of employee reportable injuries, occupational illnesses, and fatalities be "posted in a conspicuous location" at each on-duty point where a railroad reasonably expects its employees to report during a 12-month period, and that employees "have the opportunity to observe the posted list." CSX requests that in lieu of a paper copy of the listing, to make the required information available via a web portal that allows employees access to information from computer terminals and employees' personal electronic devices. CSX states that any employee who prefers a paper listing would have the option to request a hard copy of the listing from his or her supervisor. Labor has provided comments responding to CSX's petitioning the FRA for a "waiver", wherein CSX can effectively hide it's safety failures from the world.
---
April 5, 2020 - CSX response to face masks and sanitizing equipment cabs.
Health officials have issued new guidance on the use of face coverings to help slow the spread of the COVID - 19 coronavirus. The Centers for Disease Control (CDC) recommends that people wear simple cloth face coverings in public places where it is difficult to maintain a safe six - foot distance from others.
The CDC notes that the recommended face coverings are not N-95 respirators or surgical masks, which are reserved for health care workers and first responders. In addition, the recommendation to wear a face covering is not mandatory; the CDC stresses that face coverings are an added preventive measure and that individuals who voluntarily use them should continue to take all other CDC recommended precautions, including social distancing and frequent hand washing.
---
April 3, 2020 - CSX provided coronavirus update.
---
March 19, 2020 - BMWED President Freddie N. Simpson sent official letters today to the country's largest railroads urging them to protect the safety of their employees during the current global and national pandemic.
Public servants, hospitals, grocery stores and other vital industries and programs need to meet their supply chain demands. We understand and greatly appreciate those efforts. BMWED members, as well as all crafts of Rail Labor, understand their critical roles during this unprecedented emergency.
That said, the BMWED remains committed to the health and safety of our members. We have communicated those to the carrier CEOs and we trust their commitment to their employees – as well as their employees' families – will be just and fair.
This link contains the letters President Simpson sent to CSX.
---

---
March 12, 2018 - BMWED cancellation of the SPG Alternate Work Week Agreement. You can't make an agreement with CSX when they won't live up to their end of the bargain. View cancellation letter here.
---
December 18, 2017 - Travel Allowance adjustment and increase for 2018.
---
July 20, 2017 - CSX Changes the address for their Labor Relations department.
---
April 19, 2017- CSXT expands the number of System Production Teams for 2017.
---
January 4, 2017 - CSXT updated list of designated officers for 1st level claims and grievances.
---
July 29, 2016 - CSXT Discriminates against heavy workers. The purpose of this letter is to convey our collective demand that the Carrier immediately hold in abeyance its new "Weight Limitations Policy", as conveyed to all Department employees through an email, sent on your behalf, on Tuesday, July 19, 2016. The natural consequence of that policy, as written and conveyed to the BMWED-represented employees of CSXT, would be to result in unilateral changes to agreements, in violation of the provisions of the Railway Labor Act. Read more…
---
March 24, 2016 - The BMWED received a letter from Director Labor Relations Rob Miller advising that CSX is cancelling the Safety Agreement and abolishing all the Safety Coordinator positions. Read the BMWED's response.
---
July 17, 2015 - CSXT designated officers for 1st level claims and grievances.
---
November 5, 2014 - Changes to the 2014 tentative System Production schedule with respect to the Rl System Rail Team and the T4 System Tie Team.
---
October 13, 2014 - The ballots have been counted for the ratification election to decide whether to accept or reject CSXT's performance bonus agreement. 4,700 ballots were mailed to eligible members, and 1,867 were returned for a 40% return rate. Over 87% of the returned ballots voted to reject the agreement.
A copy of the certified results from the vote count may be viewed by following this link.
---
August 8, 2014 - This is notice that, Rob Miller, Director Labor Relations, is designated as the Carrier's Highest Designated Officer (HDO) for the purpose of making and maintaining all BMWED agreements and receiving and resolving all claims, grievance and discipline appeals and representing CSXT in all conferences and negotiations related to these matters. Read CSXT letter.
---
August 16, 2012 - From N. Nihoul - In accordance with the provisions of the June 1, 1999 Collective Bargaining Agreement and applicable provisions of the Railway Labor Act, please be advised that effective immediately, the Designated Officers with which you are to handle all matters at the initial claim level coming under the jurisdiction of your labor agreement will be as stipulated as follows: See attachment.
---
July 1, 2012 - Revised CSX pay rates have been posted on our Pay Rates page.
---
June 20, 2012 - The BMWED and CSX have reached agreement regarding the use of a Holland Welder on the Great Lakes Division. Read agreement on our CSX Agreement page.
---
December 20 2011 - In accordance with the requirements of Section 11, of Appendix S, as amended August 22, 2005, the travel allowance applied to employees assigned to System Production Gangs is to be recalculated annually. TRAVEL TIME SPG GANGS be increased from the current rate of $177.63 to the new rate of $193.30 effective January 1, 2012. TRAVEL TIME FLOATING GANGS for District Gangs and SLWT Gangs has also been adjusted effective Jan. 1. 2012. Read More...
---
March 8, 2011 - "Recent negotiations between the BMWED and CSXT have yielded a proposed agreement between the parties which includes three separate proposal that I believe will improve certain conditions and work opportunities for our members employed on CSXT System Production Teams." Read More of President Simpson's letter (2.6Mb) to BMWED/CSXT employees. Also view:
---
February 5, 2010 The rails have all reported their fourth quarter 2009 earnings and are summarized. Generally speaking the results were not very impressive – analyst consensus estimates were either slightly missed or just reached and there were no meaningful beaten expectations. View CSX summary.
---
December 18, 2009 Letter from CSX Labor Relations regarding Cost-of-Living Adjustment (COLA) applied to the per diem allowance. The CSX Agreement provides an increase of almost $1.00 to the per diem effective January 1, 2010.
---
September 1, 2009 Two New Agreements take effect, one dealing with contracting out the removal and installation of environmental track mats and the establishment of Track Mat gangs. The other concerns B&B, and contracting out regarding new building construction, demolition, bridge construction, culverts, scales, turntables, tunnels, and much more.
---
March 2, 2009 Employee Service Hotline Mr. Noel Nihoul, CSX Director Labor Relations wrote the BMWED advising furloughed CSX members who have benefit and employment status questions should call the Employee Service Hotline. CSX staff will be available to answer questions from 7:00 a.m. to 6:00 p.m., Monday thru Friday. The phone number is 1-866-742-1939. View Nihoul's letter in a printable version.
---
June 3, 2009 Supreme Court Denies $5 Million Dollar Payout to CSX Asbestos Victim
---
January 28, 2008 FRA Drops Hammer on CSX CSX Transportation has received the lecture and warning it invited -- from the Federal Railroad Administration, which told CSXT CEO Michael Ward to clean up the carrier's bad acting with regard to intimidation and harassment of injured employees, and to do it pronto or face serious consequences. Read more...
---
December 18, 2009 - Travel Allowance Increases. Effective January 1, 2009, CSX business mileage rates increase from $.50.5 cents to $.55 cents per mile. Also increased are the SPG Travel Allowances. View CSX Labor Relations Director N.V. Nihoul's letter here.
---
A Brief History of CSX

A Class 1 railroad, CSX Transportation is owned by the CSX Corporation. Formed on July 1, 1986 as a renaming of the Seaboard System Railroad and Chessie System, Inc. into one entity.

The originator of the Seaboard System was the former Atlantic Coast Line Railroad, which previously merged Seaboard Air Line Railroad, and later Louisville and Nashville Railroad, as well as several smaller subsidiaries.

On August 31, 1987 the Chesapeake and Ohio Railway, which had absorbed the Baltimore and Ohio Railroad on April 30 of that year, merged into CSX. The merger had been started in 1980 with the merger of Chessie System and Seaboard Coast Line Industries to form the CSX Corporation.

On June 23, 1997, CSX Transportation and Norfolk Southern filed a joint application with the Surface Transportation Board for authority to purchase, divide and operate the assets of the 11,000-mile Consolidated Rail Corporation (Conrail), which had been created in 1976 by bringing together several ailing Northeastern railway systems into a government-owned corporation.

On June 6, 1998, the STB approved the CSX-Norfolk Southern application and set August 22, 1998, as the effective date of its decision. CSX acquired 42% of Conrail's assets (Norfolk Southern received the remaining 58%). As a result of the transaction, CSX's rail operations, through its new subsidiary New York Central Lines, grew to include some 3,800 miles of the Conrail system (predominantly the former New York Central Railroad). CSX began operating its trains on its portion of the Conrail network on June 1, 1999.
John Snow
In 1985, CSX installed Snow as President and CEO of their B&O Railroad and he oversaw its merger with their C&O Railway in 1986. This created a new entity, CSX Transportation, headquartered in Jacksonville, Florida.

In 1988, Snow left CSX Transportation (the railroad) to become President and Chief Operating Officer of CSX Corporation (the holding company). As of April 1989, he was President and Chief Executive Officer of CSX. From 1991, he also served as CSX's Chairman. He continued to hold all three posts until he was named Secretary of the Treasury in 2003. Part of CSX, CSX Lines was sold to The Carlyle Group, early in 2003. After he left the company for the White House, CSX sold its international port operations to the UAE company, Dubai Transport.

Snow was nominated as Secretary of the Treasury by President George W. Bush on January 13, 2003 and unanimously confirmed by the US Senate.

In May 2004, it was revealed that Snow's brokers had bought $10 million of debt issued by Fannie Mae and Freddie Mac without his knowledge in February 2003. When Snow found out, he divested the debt holdings. A Treasury ethics lawyer has found that the holdings did not represent a conflict of interest but had the potential to do so in the future.

On May 26, 2006 Snow announced that he would resign effective July 3, 2006. He said the White House would make an official statement the following week. On May 30, it was formally announced that Snow would leave this position. On this same day, it was announced that President George W. Bush had nominated Henry Paulson, CEO of Goldman Sachs, to replace Snow.
---
"An Injury To One Is An Injury To All"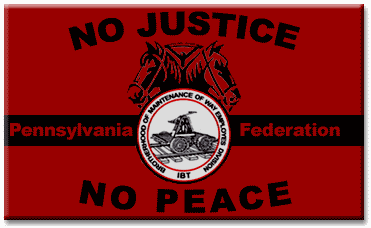 ---
Snitch
Next to a scab, a snitch or an informer is one of the lowest forms of humanity. All we have is our ability to stick together. Statements given to railroad management and their agents will only be used against you. Management is not interested in the truth and is only interested in protecting their money at our expense. Be careful what you say and never volunteer any information.

Remember, nobody likes a snitch. No one can say you saw something that you did not see. This includes but is not limited to injuries, investigations and accidents of all kinds.
---