---
May 24, 2018 - Tractor Trailer Operator positions will be bid out as Zone Tractor Trailer Vehicle Operators. The zones are Albany, Baltimore, and Florence and Great Lakes, Louisville, and Florence. Tractor Trailer Operator positions will be given Zone Expenses as per the Agreement for establishing Zone Gangs and System Production Gangs.

View Agreement here...
April 18, 2018

- Bridge and Building Heavy Crane Agreement - establishing System B & B Heavy Crane Gangs. B&B Crane Gangs advertised under this Crane Gang agreement will consist of 2 or 3 employees specifically to set up, operate, and tear down crane related work as it pertains to the rehabilitation of bridge structures. With a few exceptions, employees assigned to these heavy crane gangs will fall under the terms and conditions of the SPG Agreement.
View Heavy Crane Agreement
April 18, 2018

- Rule 25 Appeal Agreement - The BMWED and CSX reached agreement expediting the appeal process following a discipline hearing. This agreement will establish a Public Law Board, the purpose of which is to

provide timely decisions resolving disciplinary cases. This new agreement

will cut down the wait time for appeals to be heard at an Arbitration board. If an employee elects to use the governance of this new rule it must be done with the attention of his or her Duly Authorized Representative.

View Agreement
April 18, 2018 - Susquehanna River Bridge - BMWED and CSX have reached agreement regarding B&B Gangs assigned to the Baltimore Service Lane. Gangs 6D72, 6DP1, 6D66, and 6D69 will be assigned to 4/10's with Thur., Fri., and Sat. as rest days. This change will begin on April 22, 2018, and proceed for at least the next 16 weeks. Any currently assigned employee or those bidding into the effected gangs will receive a $1.00 per hour (premium pay) for every hour worked. View agreement here...
February 9, 2018 - B&B Firewatch agreement.
Our research and discussions with CSX discovered that many districts assigned fire watch work differently. This agreement was reached in an attempt to lessen the number of claims and to ensure CSX assigned this work uniformly.
February 8, 2018

- Agreement in connection with the Plate Placer Machine.
August 30, 2017

- The BMWED and CSX reach agreement allowing SPGs to be scheduled to work 9 consecutive days with 5 consecutive rest days. The workdays will consist of eight 9 hour days, and one 8 hour day; the workweeks will begin on a Tuesday and end on the following Wednesday, followed by rest days of Thursday, Friday, Saturday, Sunday and Monday. The vast majority of the 5-8's SPGs will be going to the 9-5 schedule for the rest of year.
July 25, 2017

- CSX agreement 12-002-17 combining the Western Maryland East and Western Maryland

West seniority districts into the Cumberland Seniority district. The dovetailing of existing seniority and certain protective benefits are captured in this agreement.
December 1, 2016 - Two agreements the Union made with CSX, the first eliminating the "Department Bid and Hold" provisions of the 2012 National Agreement effective immediately. In exchange the Union granted CSX the right to perform asphalting of road crossings with contractors if the Railroad chooses. Importantly, this agreement preserves all other road crossing work to BMWED members. The second agreement permits CSX to operate 9 Service Lane Work Territories without payment of the production gang bonus and SPG weekend travel allowance specified in the 1999 Strongsville Agreement. This agreement is limited in that CSX can operate these 9 Service Lane Work Territories only in the limits specified in Appendix A. If CSX deviates from that agreement, the penalties of the Strongsville Agreement will apply unless CSX operates at least 11 Service Lane Work Territories. The Union believed this agreement was necessary to preserve work opportunity for all BMWED members otherwise some of the current Service Lane Work Territories would have had little or no work scheduled for 2017.
May 3, 2013 - Understanding reached between the BMWED and CSX in connection with the establishment of a night gang Foreman Flagman position on the Great Lakes Division.
April 11, 2013

- Agreed to Questions and Answers Concerning the Interpretation and Application of agreement signed February 29, 2012.

View Q&A here
October 25, 2012

- Bid and Hold - Effective July 1, 2012, employees who successfully exercise their seniority to a position advertised and awarded pursuant to Rule 3 or appendix 'S' of the June 1, 1999 Agreement (as amended) to a department other than the department to which currently assigned will be required to remain in the department to which currently assigned as a result of the award for not less than 12 months from the date the employee assumes the duties of his new assignment.

View 6018-12 CSXT here
June 20, 2012

- GL-05-2012-002119 - Holland Welder-Great Lakes Division. Agreement regarding the temporary use of a Holland Welder with 5K61 (Chicago/Great Lakes Zone Welding Team) on the Great Lakes Division.

View

agreement.

(72kb)
September 30, 2011

Memorandum of Understanding (CSXT labor agreement #2-035-11) addresses track material handling, fencing, Sperry Car operations, track panel construction, the hauling, dumping, cleaning, and removal of ballast, including undercutting and ditching, and finally specific provisions governing cleaning yards, including "Clean Sweeps" and cleaning of or removal of hazardous materials.
March 8, 2011 - "Recent negotiations between the BMWED and CSXT have yielded a proposed agreement between the parties which includes three separate proposal that I believe will improve certain conditions and work opportunities for our members employed on CSXT System Production Teams." Read More of President Simpson's letter (2.6Mb) to BMWED/CSXT employees. Also view:
March 1, 2011

Direct Hiring B&B and Welding, Memorandum of Agreement CSX-12-010-11
March 1, 2011

Direct Hiring SPG, Memorandum of Agreement, CSX-12-011-11
October 15, 2010

Night Gang Agreement, establishing positions, start times, work week and premium pay at Collinwood, Ashtabula, and Willard, Ohio and at Avon, Indiana.
September 1, 2009

B&B Agreement - 12-006-09 - Whereas, the parties have had ongoing disputes over the interpretation and application of the Scope Rule of the June 1, 1999 Agreement as it relates to the contracting out of Bridge and Building Department work; and...
December 9, 2009

Agreed to Questions and Answers Concerning the Interpretation and Application of the September 9, 2009 B&B Agreement
Board awards have generally treated absenteeism as a serious offense. In fact, Third Division Award 3-20987 held that "Habitual tardiness may very well result in a justified termination of employement". The BMWED/CSX agreement Rule 26 can be viewed here.
Jury duty is service as a juror in a legal proceeding. When a person is called for jury duty in the United States, that service is usually not optional: one must attend or face strict penalties. Employers are not allowed to fire an employee simply for being called to jury duty. When attended, potential jurors may be asked to serve as a juror in a trial, or they may be dismissed. The BMWED/CSX agreement Rule 31 can be viewed here.
This negotiated benefit helps ease the pain when the tragedy of death strikes. Bereavement leave is paid leave that an employee is entitled to because of the death of a family member as defined by the terms of the BMWED collective bargaining agreement.The BMWED/CSX agreement Rule 32 can be viewed here.
RULE 26 - ABSENT WITHOUT PERMISSION

(a) An employee unable to report for work for any reason must notify his supervisor as soon as possible.
(b) Except for sickness or disability, or under circumstances beyond his control, an employee who is absent in excess of fourteen (14) consecutive days without notifying his supervisor or proper carrier official will forfeit all seniority under this Agreement. The employee will be notified by certified mail, return receipt requested, with copy to the General Chairman advising them of such forfeiture of seniority. The employee or his representative may appeal from such action to the carrier's Highest Designated Labor Relations Officer within thirty (30) days under Rule 25, Section 3.
(c) It is understood this rule shall not apply to an employee involved in a medical dispute with the carrier's physician and the employee's physician, regarding his ability to work in connection with.
RULE 31 - JURY DUTY

When a regularly assigned employee is summoned for jury duty and is required to lose time from his assignment as a result thereof, he shall be paid for actual time lost with a maximum of a basic day's pay at the straight time rate of his position for each day lost less the amount allowed him for jury service for each such day, excepting allowance paid by the court for meals, lodging or transportation, subject to the following qualification requirements and limitations.

(1) An employee must furnish the Company with a statement from the court of jury allowances paid and the days on which jury duty was performed.

(2) The number of days for which jury duty pay shall be paid is limited to a maximum of sixty (60) days in any calendar year.

(3) No jury duty pay will be allowed for any day as to which the employee is entitled to vacation or holiday pay.

(4) When an employee is excused from railroad service account of jury duty the Company shall have the option of determining whether or not the employee's regular position shall be blanked, notwithstanding the provisions of any other rules.

(5) Except as provided in paragraph (6), an employee will not be required to work on his assignment on days on which jury duty:
(a) ends within four (4) hours of the start of his assignment; or

(b) is scheduled to begin during the hours of his assignment or within four (4) hours of the beginning or ending of his assignment.
(6) On any day that an employee is released from jury duty and four (4) or more hours of his work assignment remain, he will immediately inform his supervisor and report for work if advised to do so.
RULE 32 - BEREAVEMENT

Bereavement leave, not in excess of three (3) calendar days following the date of death will be allowed in case of death of an employee's brother, sister, parent, child, spouse or spouse's parent. In such cases a minimum basic day's pay at the rate of the last service rendered will be allowed for the number of working days lost during bereavement leave. Employees involved will make provisions for taking leave with their supervising officials in the usual manner. (See Appendix 1.)
---
APPENDIX "I"
AGREED UPON INTERPRETATIONS - BEREAVEMENT LEAVE

Q-1: How are the three calendar days to be determined?
A-1: An employee will have the following options in deciding when to take bereavement leave:
a) three consecutive calendar days, commencing with the day of death, when the death occurs prior to the time an employee is scheduled to report for duty; or
b) three consecutive calendar days, ending the day of the funeral service; or
c) three consecutive calendar days, ending the day following the funeral service.
---
Q-2: Does the three (3) calendar days allowance pertain to each separate instance, or do the three (3) calendar days refer to a total of all instances?
A-2: Three days for each separate death; however, there is no pyramiding where a second death occurs within the three-day period covered by the first death.

Example: Employee has a work week of Monday to Friday - off-days of Saturday and Sunday. His mother dies on Monday and his father dies on Tuesday. At a maximum, the employee would be eligible for bereavement leave on Tuesday, Wednesday, Thursday and Friday.
---
Q-3: An employee working from an extra board is granted bereavement leave on Wednesday, Thursday and Friday. Had he not taken bereavement leave he would have been available on the extra board, but would not have performed service on one of the days on which leave was taken. Is he eligible for two days or three days of bereavement pay?
A-3: A maximum of two days.
---
Q-4: Will a day on which a basic day's pay is allowed account bereavement leave serve as a qualifying day for holiday pay purposes?
A-4: No; however, the parties are in accord that bereavement leave non-availability should be considered the same as vacation non-availability and that the first work day preceding or following the employee's bereavement leave, as the case may be, should be considered as the qualifying day for holiday purposes.
---
Q-5: Would an employee be entitled to bereavement leave in connection with the death of a half-brother or half-sister, stepbrother or stepsister, stepparents or stepchildren?
A-5: Yes as to half-brother or half-sister, no as to stepbrother or stepsister, stepparents or stepchildren. However, the rule is applicable to a family relationship covered by the rule through the legal adoption process.
Download Breavement Rule for printing

"An Injury To One Is An Injury To All"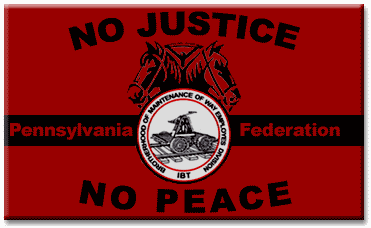 ---
Snitch
Next to a scab, a snitch or an informer is one of the lowest forms of humanity. All we have is our ability to stick together. Statements given to railroad management and their agents will only be used against you. Management is not interested in the truth and is only interested in protecting their money at our expense. Be careful what you say and never volunteer any information.

Remember, nobody likes a snitch. No one can say you saw something that you did not see. This includes but is not limited to injuries, investigations and accidents of all kinds.
---